With nine months of data, overall organ yield from the DCD heart donors was observed to be 36% higher than expected.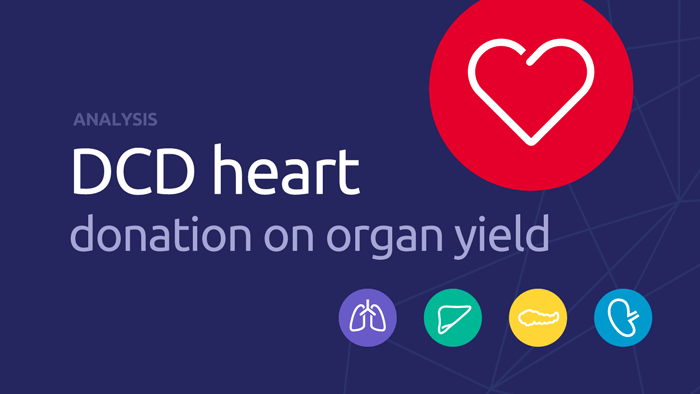 Despite concern, heart donation after circulatory death does not impair overall organ yield of DCD donors. 
Recent advances in technology and recovery procedures have meant more transplants of donation after circulatory death (DCD) organs than ever before. While this innovation has particularly increased the number of DCD heart transplantations, it has also caused concern around the ability to procure other organs from DCD donors. To understand if this concern is valid, United Network of Organ Sharing researchers conducted a study on the overall organ yield from DCD heart donors, and recently presented their findings at the 2021 American Transplant Congress.
UNOS research analyst Katrina Gauntt, along with director of research Bob Carrico, Ph.D and chief medical officer David Klassen, M.D., analyzed data to investigate this concern. "Our motivation to conduct the analysis was largely driven by two factors," said Gauntt, the lead researcher. "First, we were hearing concerns from the community, particularly the liver community, regarding complications when recovering other organs from DCD heart donors. Second, DCD heart procurements are a new process, and this analysis allowed us to further explore its impacts while also considering the impact to other organ communities."
The researchers analyzed nine months of transplant data to calculate the observed to expected yield ratio for each organ from DCD donors. The researchers used Organ Procurement and Transplantation Network data and Scientific Registry of Transplant Recipients organ yield models to calculate the expected organ yield for these donors.
"We were only able to look at the first nine months of data, and many of these DCD heart procurement cases are under a clinical trial umbrella," noted Gauntt. "That said, our results showed that as of September 2020, DCD heart donors are yielding other organs as expected. This implies that not only were these DCD donors able to donate their liver, pancreas, kidneys and lungs as expected, they were also able to donate a heart to someone in need."
94 DCD heart donors were included in the cohort.
84 hearts were recovered and transplanted.
From those 84 donors, the yields for liver, kidney, lung and pancreas did not differ significantly from their expected yields.
The overall organ yield from the DCD heart donors was observed to be 36% higher than expected, though the researchers cautioned the difference was primarily driven by the significant increase in heart yield.
"Again, it's critical to note that many of the procedures that lead to DCD heart donations are still under clinical trial," said Gauntt. "As more data becomes available, continued effort to investigate the impact of these advancements will provide further insight to the true impact they have had on the community."
Gauntt K, Carrico B, Klassen D. DCD Heart Donation: Impact on Organ Yield [abstract]. Am J Transplant. 2021; 21 (suppl 3).