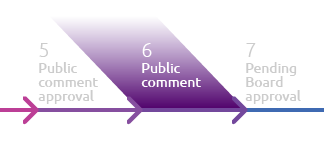 What happens during public comment?
 Working together to improve
What is public comment?
Public comment is a crucial part of policy development. It's a time for donor families, transplant candidates, organ recipients, donation and transplant professionals and the general public to provide feedback and engage in debate about policies that govern organ matching and allocation. To make the nation's organ donation and transplantation system fair and equitable for all, many voices are needed and every view matters.
Please see the resources listed here to learn more about how UNOS convenes the organ donation and transplant community and the public in this twice yearly forum.
"Public comment is so important. And regional meetings are the place everyone comes together to talk about the big picture. I learn from the people who are on the ground and doing the work—like transplant coordinators and administrators. It's really important to consider their perspectives and have evidence-based conversations about policy. Public comment is a reflection opportunity for real world issues in transplant."
Macey L. Henderson, JD, Ph.D., Assistant Professor of Surgery, Johns Hopkins Medicine
Dr. Henderson serves on the OPTN Board of Directors. She is also a living donor.
Policy development process
Archived public comment
Read comments about some of the previous proposals
Get involved
Hear perspectives from the organ donation and transplant community in our blog.