Want to amplify your story on social media? We'll show you how.
Have 15 minutes? Create a free account on UNOS Connect and take "Using Social Media for Organ Donation Advocacy," developed by a social media professional. You'll learn:
Best practices when sharing your story
Practical tips and strategies that make a difference
How to maximize your impact, and
How to leverage social media as an advocacy tool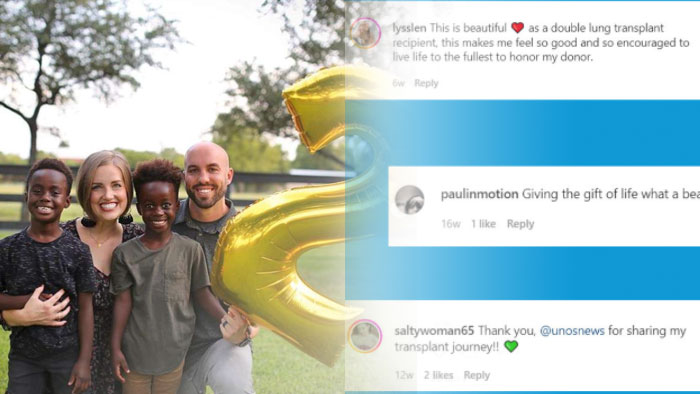 Who we are
UNOS Ambassadors are United Network for Organ Sharing community volunteers and advocates raising awareness and educating the public about:
organ donation and transplantation,
organ matching and
how UNOS runs the nation's transplant system.
UNOS Ambassadors are passionate about organ donation, allocation and policy development. Many have a direct connection to organ donation or transplantation including: waitlist candidates, transplant recipients, donor family members, living donors, caregivers and/or registered organ donors. Read UNOS Ambassador stories.
Resources to share
This past decade set records for organ donation. 2021 continued that trend. Share the success with these infographics.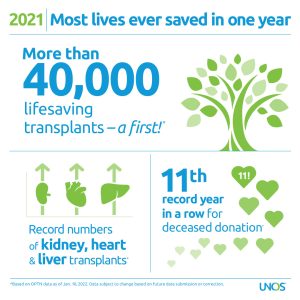 What does a UNOS Ambassador do?
Using program-provided resources, UNOS Ambassadors spread awareness about transplantation, organ donation, policy proposals, and policy updates.
Share your transplantation journey
Participate in public comment
Advocate for organ policy proposals
Learn more and share information about transplant trends
Show your support by giving to UNOS
As a UNOS Ambassador, you'll receive:
1
Supportive community: UNOS Ambassadors receive a monthly e-newsletter, are provided quarterly educational opportunities, and an invitation to join the private Ambassadors Facebook Group. By joining our private UNOS Ambassadors Facebook Group, you can communicate with other UNOS Ambassadors and share what you've been doing to raise awareness for UNOS, organ donation, and transplantation.
2
Educational training sessions: Create a free account at UNOS Connect to learn about the waitlist, public comment, UNOS acronyms, how to use social media to share your UNOS mission moment, and more.
UNOS Connect
Create an account to view training on:
Waitlist 101
Understanding Public Comment and why you should be involved
Committee volunteerism
UNOS acronyms
Social media: Share your personal why
For registered UNOS Ambassadors: join the private Facebook group
Please note: a parent or legal guardian must accompany UNOS Ambassadors who are under the age of 16 to all volunteer events.
Join a caring community
Check out Transplantation Journey, a webinar series for UNOS Ambassadors.
Watch now!