Data exchange touches every area of transplantation. By efficiently managing the flow of data among applications, transplant professionals can provide more lifesaving organs to more people. One of the ways UNOS manages the efficient, secure exchange of data is through UNetSM APIs, or application program interfaces, which are built by our team of technology specialists.
What is an API?
APIs allow user-friendly interactions between computer applications that weren't designed to share information.
UNOS technology specialists develop APIs that connect organ procurement organizations, transplant hospitals and histocompatibility centers so their respective applications can seamlessly exchange data with UNet applications, including DonorNet®, TIEDI® and WaitlistSM. The UNOS APIs can be integrated into technology systems developed by member institutions and technology providers.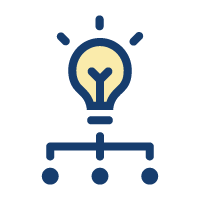 UNOS helps the transplant community share vital data
Interested in increased efficiency?
Tired of double-entry? Ready to stop toggling between applications? Ask your technology providers about their plans for integration with UNet APIs.
Unsure how to start this conversation? Contact us and we'll be happy to facilitate the conversation with your staff and technology providers.
Are you a technology provider looking to bring increased efficiency to your users? Contact us to request access to the developer portal. There, you can learn more about UNet APIs and what possibilities exist for your organization.
Available API functionalities
Organ procurement organizations
Death notification registration (DNR) reporting: Allows an OPO professional to update one or more DNR records to UNet without leaving the original website or application.
Donor attachments: Allows an OPO professional to synchronize donor attachments between DonorNet and other systems without the need for a user to move the attachments manually.
Donor record upload: Allows an OPO professional to send a donor file directly into DonorNet, eliminating the need for the user to manually move the file. The user can then simply log in and process the file to update the donor record.
Deceased donor registration (DDR) TIEDI: Allows an OPO professional to export/import the DDR and associated DCD forms without the need to manage files manually.
Donor hospital: Allows an OPO professional to pull a list of donor hospitals associated with the user's OPO to help verify that the OPO's donor hospital list is accurate.
Transplant hospitals
Waitlist registration retrieval: Retrieve Waitlist registration information for your program without the need to log in to UNet, navigate to Waitlist and export these files manually. Read additional details.
Waitlist unacceptable antigen retrieval and submission: Retrieve and submit unacceptable antigen data without the need to log into UNet, navigate to Waitlist and import the data manually. Read additional details.
Calculators (CPRA and MELD): Allows health care providers to calculate organ allocation clinical scores without the need to build/maintain their own calculation.
Transplant hospital TIEDI forms: Allow a transplant hospital professional to export/import the TIEDI forms without the need to manage files manually:
Transplant recipient follow-up (TRF) and transplant immunosuppression follow-up (IMF)
Transplant recipient registration (TRR) and transplant immunosuppression registration (IMR)
Transplant candidate registration(TCR)
Living donor registration (LDR)
Living donor follow-up (LDF)
We're here to help you increase efficiency