The F.M. Kirby Foundation Organ Center
In continuous operation for more than three decades, the F.M. Kirby Foundation Organ Center has been described as the "heart" of UNOS. Like a beating heart, it's at work continuously—days, nights, weekends, holidays and during inclement weather and even national disasters—saving lives by matching donors with candidates on the transplant waiting list. The primary functions of the Organ Center are to:
assist in placing donated organs for transplantation
assist in gathering donor information and running the donor/recipient computer matching process
assist with transportation of organs and tissues for the purposes of transplantation
act as a resource to the transplant community regarding organ-sharing policies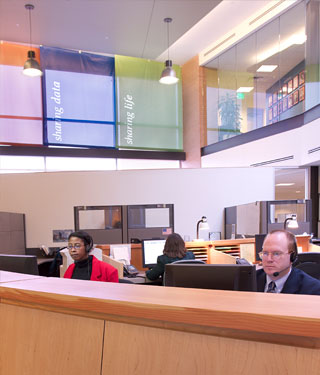 A few minutes saved can make the difference
Roger Brown, Director of the Organ Center, talks about how Organ Center team members improve processes in order to increase transplants.
Meet the OC team and learn how they work hand in hand with OPOs and transplant centers to place organs every day, around the clock.
Managing the Organ Center
Roger Brown joined the Organ Center as an organ placement specialist in 1995. He became assistant director in 2009 and director in 2015.
Brown provides expertise to all aspects of Organ Center oversight, assisting callers and placement specialists with questions or issues. He also maintains the Organ Center's quality assurance efforts, and schedules the Organ Center's round-the-clock staff.
One of the reasons Brown wanted to work at UNOS was because, when he was in college, his father had a heart transplant. Working at UNOS, he said, provides a "unique opportunity to make a difference."
Brown has been a leader in the transplant community since the beginning. A member of NATCO−The Organization for Transplant Professionals, he has served as faculty for NATCO's course for new transplant coordinators and additionally as an invited lecturer for medical students at MCV.