Transplant Management Forum
Important COVID-19 updates and latest data

UNOS is moving forward with the planning of the 2021 TMF, which will take place April 19-21 in Denver.  A number of the sessions from the 2020 TMF agenda will be updated and carry over to the 2021 agenda. Others will be converted to virtual modules and shared with the community at a later date.
Please email UNOSTransplantManagementForum@unos.org with any questions.
TMF 2020 canceled
At United Network for Organ Sharing, the safety and well-being of the donation and transplant community and our staff is a paramount concern.
Following consideration of a wide range of factors, the 2020 Transplant Management Forum scheduled for April 6-8 in Las Vegas is canceled and will not be rescheduled.
We appreciate your patience as it was important for UNOS to conduct discussions with the hotel before issuing further guidance to those who had already registered—that work is complete.
What happens next?
All attendees will receive a full refund of their registration fees with no cancellation penalty. No further action is required on your part—UNOS Meeting Partners will be reaching out to you.
For those who have already canceled, UNOS will refund the $100 administrative fee that was processed at time of cancellation.
Please know that we are working to process refunds as quickly as we can. Allow 30 business days for refunds.
Please cancel any travel arrangements you have made personally, such as flight and hotel reservations made with the Bellagio directly, at least 72 hours in advance.
For TMF speakers whose travel arrangements were made for them by UNOS Meeting Partners, no further action is required.
UNOS Meeting Partners will be refunding all exhibitor and sponsorship fees within 30 business days.
Call for 2021 TMF Abstracts

2020 Heckenkemper Leader in Transplant Administration Award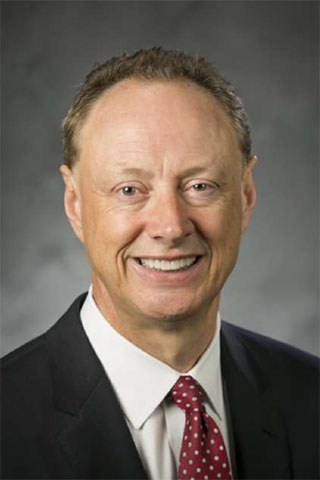 Ian Jamieson, vice president, Duke Transplant Center, Durham, N.C.
Sponsored by Guidry & East, LLC
Congratulations to all the 2020 TMF winners
Finance category: "Use of Six Sigma to Improve the HLA Billing Process Resulting in Substantial Recovery."
William Maixner, MHA; Luke McKinley, MBA; Adrian Thompson, B.S.; Pamela Kimball, Ph.D.; and Marlon F. Levy, M.D.; of VCU Health Hume-Lee Transplant Center, Richmond, Va.
Sponsored by Transplant Management Group, LLC
QAPI and safety category: "Multidisciplinary Response to Donor ABO Discrepancy-Related Adverse Event."
Victoria Hunter, B.S.N, RN-C, CCTC; Arika Hoffman, M.D; Sue Miller, RN, CCTC; Scott Koepsell, M.D., Ph.D; Clifford Miles, M.D; of Nebraska Medicine, Omaha, Neb. Kyle Herber, Live On Nebraska.
Sponsored by CareDx
Clinical, operations and innovation category: "Changing Post-Transplant Care with Telemedicine."
Abhinav Rastogi, MBA, MIS; Nicole Patlakh, B.S., Temple Hospital, Philadelphia.
Sponsored by LifeTrac Network
Strategy and marketing category: "Increasing Patient Referrals for Transplant Through a Combined Outreach/Referral/Scheduling Coordinator Position."
Janine Vallen, RN, MSN, CCTN, APN-C; Michelle Preziosa, of Virtua Our Lady of Lourdes Transplant, Camden, N.J.
Sponsored by Cincinnati Children's Hospital Medical Center
Regulatory category: "Improving Regulatory Readiness Through a Compliance Dashboard."
Jenna Lawson, M.S., M.S.N, RN; Lindsay Smith, of Vanderbilt University Medical Center, Nashville, Tenn.
Sponsored by HCA Healthcare
Best of the Best abstract: "Early Extubation in Liver Transplant Patients."
Scott Bennett, M.S; Zachary Davis, B.S.N, RN; Bailor Hardman, M.D.; Keith Murray, B.S.N, RN, CCRN-K; Susan Neill-Fogus, B.S.N, RN; Chen Shi, M.D.; Leonor Sosa, RN, APRN, AGACNP-BC; Parsia Vagefi, M.D.; of UT Southwestern Medical Center, Dallas.
Sponsored by Transplant Administration and Quality Management Community of Practice
About the event
Transplant administrators from across the country attend the UNOS Transplant Management Forum each year for its educational sessions and networking opportunities. While many of the sessions are geared to transplant administrators, the forum is also an excellent opportunity for clinical and financial coordinators, social workers, OPO executive directors, physicians and surgeons, to enhance their understanding of how a program operates. Sessions help to increase collaboration between transplant centers and OPOs, and to expand transplant professionals' knowledge of operations, finances, strategies, and more.
What you can expect
Learn why transplant administrators find this annual conference so valuable. 
A glimpse of what happens at TMF
What you can expect at the Transplant Management Forum
Valuable learning
Whether you're new to transplant management or have many years' experience, TMF offers insights for everyone
Benefits of sponsoring and attending the Transplant Management Forum
"TMF is the ONE conference that focuses solely on the wide scope of transplant administration. It is equally relevant to the new administrator as it is for seasoned administrators."
Nancy Long, Saint Luke's Hospital of Kansas City
"I have attended TMF the last five years and wouldn't miss it—highly informative and time well-spent."
Jeff Orlowski, LifeShare Transplant Donor Services
Awarding excellence
Hear Brigitte Sullivan, 2019 Heckenkemper recipient, describe the honor as a "lifetime achievement award." 
Heckenkemper Leader in Transplant Administration Award
2019 Award Winner, Brigitte Sullivan, M.B.A.