The national organ transplant system
How UNOS, OPOs and transplant programs work together to save lives
About UNOS
United Network for Organ Sharing (UNOS) is the private, non-profit organization that serves as the nation's organ transplant system—the Organ Procurement and Transplantation Network (OPTN)—under contract with and oversight by the federal government.
UNOS works collaboratively with the donation and transplant community—combining our collective experience with extensive data analysis—to develop policy, education and technology to continuously improve the system.
Every day, UNOS works for the more than 100,000 patients on the transplant waiting list to ensure they have equitable access to lifesaving organs no matter where they live or where they go for their transplant care.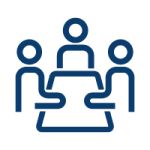 Working together:
Our nation's

organ donation and transplant system
About OPOs
Organ Procurement Organizations (OPOs) are not-for-profit organizations responsible for recovering organs from deceased donors for transplantation in the U.S. There are 56 OPOs, each mandated by federal law to perform this life-saving mission in the donation service area—or DSA—assigned to them. While OPOs may be "monopolies," in that only they can procure organs in the DSA, in exchange they are responsible for taking care of every donor hospital in their DSA, even those that only have one or two donors per year.
OPOs are on the front-line of organ procurement, and work directly with a decedent's family during the emotional discussion about the potential donation of the gift of life.
When an organ procurement organization gets consent for an organ donation, it enters medical data, such as the donor's blood type and body size and the location of the donor hospital, into UNetSM, UNOS' secure web-based transplant platform linking all organ procurement organizations and transplant hospitals, which then initiates the matching process with potential recipients.
For every successful match, the OPO facilitates authorization, testing, the recovery of the donor organs and delivery to the transplant hospital.
About transplant hospitals
Transplant hospitals operate in a more competitive environment than OPOs. They are independent and entrepreneurial. There are often many transplant hospitals in very populated cities.
Physicians refer potential end stage organ failure patients to the more than 250 transplant hospitals in the U.S. Diagnostic medical testing as well as consideration of a patient's mental health and social support system are considered during evaluation. Transplant hospitals use this information to determine whether or not to add patients to the national waiting list that UNOS manages.
When a transplant hospital accepts a patient as a transplant candidate, it enters medical data such as the person's blood type and medical urgency into UNetSM.
Matching donors and transplant candidates
If a hospital accepts a patient as a candidate for transplant, the candidate is not immediately placed on a ranked list. Rather, his or her information is maintained in UNetSM. Each time an organ becomes available, using organ-specific allocation algorithms derived from OPTN allocation policies and the combination of donor and candidate information, UNetSM generates a match run, a rank-order list of candidates to be offered each organ.
This match is based on allocation policies developed by the community and approved by the OPTN board. It is unique to each donor and each organ. The candidates who will appear highest in the ranking are those who are in most urgent need of the transplant, and/or those most likely to have the best chance of survival if transplanted.
Patients' transplant physicians may accept or decline organ offers based on cold ischemia time, the donor's age or medical history and many other factors.
UNetSM is accessible to the transplant community 24 hours a day, seven days a week, with organ placement specialists in the UNOS Organ Center available around the clock to answer questions and assist with organ placement.
In 2022, more than 42,800 transplants were performed in the U.S., thanks to the gifts of life from the more than 14,900 deceased donors and more than 6,400 living donors.
Working together to drive continuous improvement
UNOS works collaboratively with the donation and transplant community to make the transplant system more efficient and effective to save more lives. As a community dedicated to preserving the gift of life, our shared goals are:
Increasing organ utilization
Enhancing process efficiency
Improving equity in access to transplant
Read more
Our mission is to unite and strengthen the donation and transplant community to save lives.
For more information
Take a look inside the UNOS Organ Center and learn how we work hand in hand with OPOs and transplant hospitals to place organs every day, around the clock.