The policy development process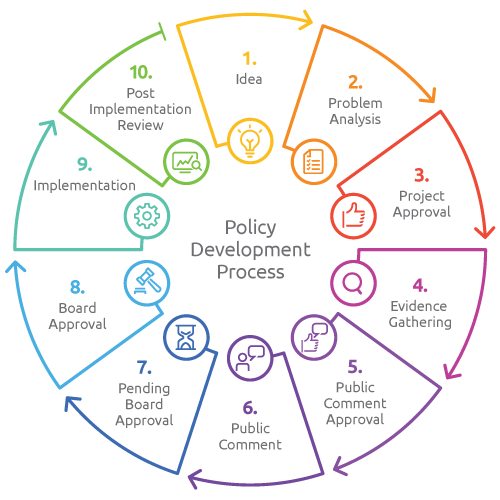 Identify an issue
An OPTN committee develops possible solutions to issues identified using data analysis provided by UNOS and/or SRTR research staff and other supporting information.
Investigate options and draft a proposal
After considering multiple solutions, committee members build consensus among their peers and draft language of a policy proposal.
Request and receive feedback
The committee prepares and distributes an initial public comment document including the rationale surrounding the proposed policies. This proposal language is made available on the Organ Procurement and Transplantation Network website so both transplant professionals and members of the general public can read it and give the committee their unique perspectives.
Rework the proposal (as needed)
The committee reviews public comments on the proposed policies and makes any appropriate changes to the proposal. Sometimes, feedback collected during the public comment period results in the proposal language being revised or rewritten entirely before being sent to the OPTN Board of Directors for a vote. If significant changes are made, the revised language goes out for public comment a second time.
Board of directors votes
The OPTN Board of Directors meets twice a year to vote on policy proposals. A proposal will be adopted as policy only if the board approves it. Rejected proposals are sent back to the appropriate committee to be reworked.
Changes implemented
The UNOS computer system is programmed to automatically consider the necessary elements when matching donor organs to patients awaiting a transplant.
Notify the transplant community
UNOS then informs transplant professionals about the change through a formal policy notice, emails about changes to the matching system, and through the OPTN evaluation plan (an online compliance tool for professionals).
An evolving forum
Continuing advances in the science and practice of organ transplantation require ongoing refinement of policy. To ensure the best possible solutions for patients awaiting transplantation, the policy development process is:
inclusive – encouraging participation by interested persons and organizations
responsive – assessing and modifying policies to remain current with the field
equitable – helping to ensure that all patients have an equal chance of receiving a suitable organ
evidence based – making decisions based on extensive and valid scientific data and analysis
Working together
A 42-member board of directors, who represent the diversity of professions and viewpoints within the field of organ transplantation, are assisted by more than 20 committees. These committees address a variety of specific perspectives and interests, including:
patient and donor family issues
medical issues specific to the various transplantable organs
needs and concerns of ethnic minorities and children needing transplants
technical aspects of organ recovery and matching
ethical principles
collection and reporting of scientific data
Stay updated on specific policy developments