Register to be an organ, eye and tissue donor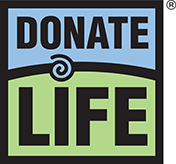 Make life possible. You can give hope to 110,075 people on the national organ transplant waiting list. Commit now to giving life to others when you die.
The National Donate Life Registry is managed by Donate Life America.
Why be a donor?
Currently, 110,075 men, women and children are awaiting organ transplants in the United States.
1 organ donor can save up to 8 lives.
Every 9 minutes another name is added to the national organ transplant waiting list.
Sadly, an average of 17 people die each day* because the organs they need are not donated in time.
* More than 6,200 candidates died in 2018 while on the wait list, or within 30 days of leaving the list for personal or medical reasons, without receiving an organ transplant.