Participating OPOs experienced 24% more DCD transplants in 2021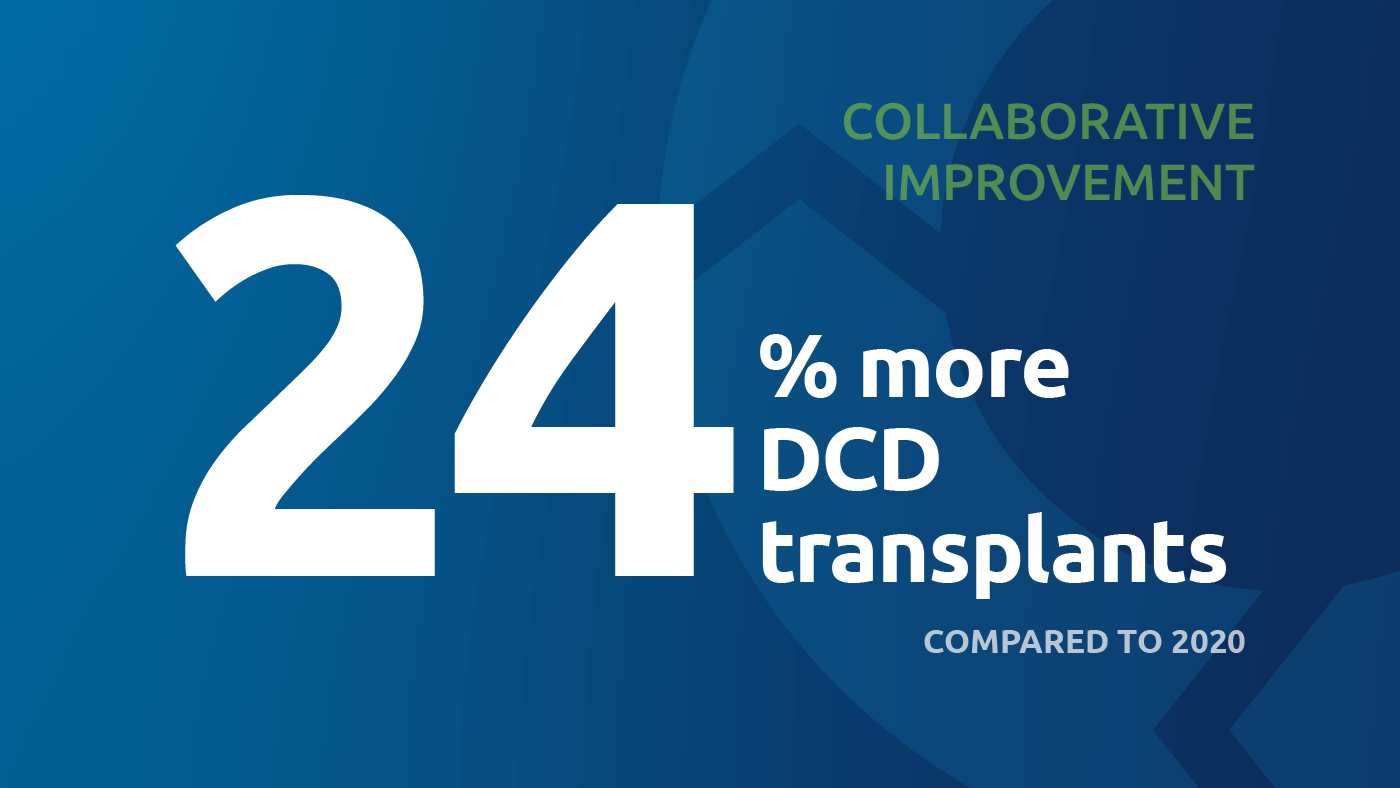 All U.S. OPOs saw an increase in DCD transplants in 2021, but a collaborative improvement project's participants saw greater increases than the rest of the nation.
In 2021, OPOs from across the country participated in an Organ Procurement and Transplantation Network collaborative improvement project to strengthen processes related to recovery of donation after cardiac (DCD) donors. Now, data shows they surpassed their project goals and recovered DCD donors at a higher rate than the rest of the nation.
Participants in the DCD Procurement Collaborative actively engaged in improvement cycles from January through June 2021. Coached by UNOS performance improvement specialists, they collectively aimed to increase DCD donor procurement by 20 percent by Dec. 31, 2021. Preliminary data analysis included a comparison of the number of DCD donors recovered and transplanted by participating OPOs to OPOs throughout the rest of the nation.
During 2021, collaborative participants:
Recovered 34 percent more DCD donors compared to 2020, while the rest of nation saw a 26 percent increase
Experienced increases in DCD transplants of 24 percent compared to 2020, while the rest of the nation saw an increase of 17 percent
DCD donors die of cardiorespiratory failure as opposed to brain death. Recovery of these donors has steadily increased over the past several years, with 2021—a record-setting year for donation and transplant—seeing a steep increase of 29.9 percent over the total in 2020. Increasing the number of DCD donor organs recovered and transplanted through collaboration and the development of effective practices is a key UNOS initiative.
UNOS as the OPTN contractor delivers collaborative improvement projects to the community in order to increase donation and transplant. Read more about these preliminary results of the DCD Procurement Collaborative project, which is continuing into its next phase with a second cohort.
For more information about collaborative improvement, contact [email protected]