At United Network for Organ Sharing's Primer event in early November, 48 transplantation and organ procurement organization professionals gathered with UNOS employees for two days of interactive learning and networking opportunities.
"We are committed to supporting and educating members," UNOS Director of Professional Education Daryl Chesley said of the Organ Procurement and Transplantation Network members who traveled from across the country to attend. Chesley helped organize the educational series that provided onsite training for attendees to learn through lectures, breakout sessions and one-on-one engagements with UNOS employees. Attendees also toured the UNOS headquarters, seeing organ placement specialists match organs with recipients at the Organ Center and visiting the National Donor Memorial in downtown Richmond, Virginia.
UNOS launched the inaugural Primer event more than a decade ago in response to members' requests to gain a more intimate understanding of the nonprofit's inner workings. A resounding success, the event snowballed in popularity and was eventually relocated offsite to accommodate the growing list of attendees. "When the Primer first began it was capped at 50 attendees and that seemed to be the most successful number in that UNOS staff was able to provide attendees more personal attention in a smaller setting," said UNOS education liaison Angel Carroll.
To provide a more intimate experience, event organizers went back to the basics and capped the 2019 event's registration at 50. UNOS also brought the event back to the nonprofit's headquarters so that attendees could see the organization at work firsthand. "After a four year hiatus, we returned to the successful roots of the program, which is focused on building relationships with members while imparting knowledge," Chesley said.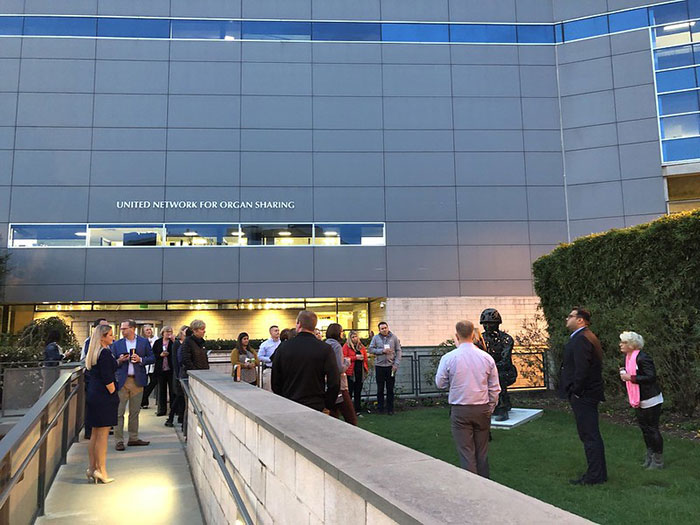 In addition to receiving a history of UNOS and an overview of the organization's functions and structures, attendees heard from UNOS member quality department employees about how the department assists OPTN members and facilitates the OPTN peer-review process through the membership and professional standards committee. Attendees also received an overview of the OPTN policy development process and learned from UNOS employees about how to best use UNetSM applications.
"It was great to come here and realize that there are all of these tools that I can use to make my job easier, manage my waitlist and take care of my patients," said Ruth Rowland, who works as a kidney transplant coordinator in Nashville, Tennessee. "It's nice to know that I have all these new people who are resources that I can reach out to ask questions."
While the 2020 Primer date has not yet been set, UNOS employees and members are already starting to plan the event to best serve next year's attendees and further enrich the organ donation and transplantation community.
"We hope attendees left with a better understanding of how UNOS personnel and systems support our members to advance transplantation efforts across the country," Chesley said.
Thank you to the 2019 UNOS Primer sponsors, CareDx and Transplant Solutions, LLC. For information about sponsoring the 2020 Primer, please contact UNOS Philanthropy at [email protected].