A 68% increase in DCD heart transplants was part of a record-setting 2022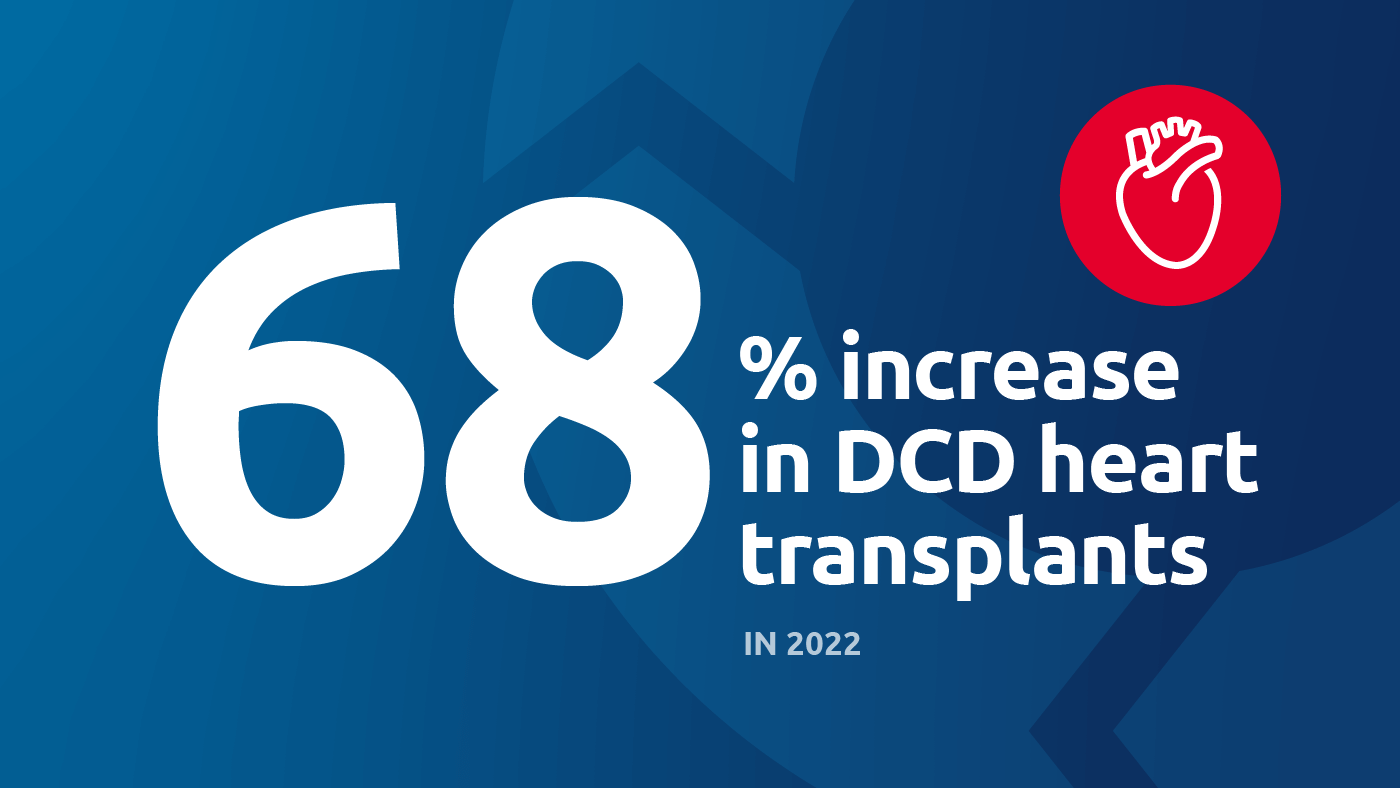 The 11th straight year of increases in heart transplants coincides with advancements in organ perfusion technology and DCD recovery practices.
In 2022, 42,888 organ transplants were performed in the United States, an increase of 3.7 percent over 2021 and a new annual overall record.*
While new records were also set for liver, kidney and lung transplants, heart transplants in particular experienced a steep increase, from both donation after brain death (DBD) donors, as well as donation after circulatory death (DCD) donors.
Heart transplants increased overall by 21.5 percent (4,169 in 2022)
DBD heart transplants increased 4.6 percent (3,822 in 2022)
DCD heart transplants increased 68 percent (347 in 2022)
Advances in technology and donor recovery practices contributing to increases
Rapidly-evolving perfusion technology is allowing more DCD hearts to be transplanted. Perfusion allows organs to remain viable for longer periods outside the body; this is important for organs such as hearts and lungs, which have shorter windows of time when compared to kidneys. 2022 saw a 95 percent increase in transplants of machine-perfused hearts.
Coinciding with these advances in technology, increasing recovery of DCD donors has been a key area of focus for the nation's 56 organ procurement organizations (OPOs) for a number of years. A recent UNOS-led collaborative project helped OPOs share effective practices related to recovering DCD donors to increase transplant. Over the course of the national project, 75 percent of OPOs participated in one or both of the two cohorts, contributing to the overall increases in DCD donors recovered and DCD organs transplanted. A subsequent collaborative project is currently focused on increasing transplantation of DCD lungs, and more than 40 percent of the nation's lung transplant programs are participating.  
A report from the National Academies of Sciences, Engineering and Medicine (NASEM) recommends taking collaborative improvement approaches as well as embracing innovative technologies to maximize organ use, in particular use of DCD organs.  
February is American Heart Month. Get resources, fact sheets and other information on the National Institutes of Health website.  
---
*According to the most recent data from the Organ Procurement and Transplantation Network (accessed Feb. 13, 2023)