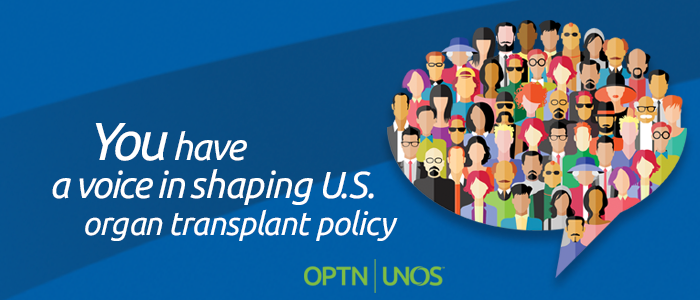 The Organ Procurement and Transplantation Network (OPTN) is offering 12 proposals for public comment beginning on Friday, August 14. Proposals include:
Bylaws changes to set standards for key staff in programs that perform transplants on children and teens (under age 18).
Changes to promote broader sharing of lungs from donors under age 18 with recipients of the same age, and a change to allow children under age 2 to receive a donor lung of any blood type.
Changes to the kidney paired donation system, to help match more transplant candidates with living kidney donors in this program.
Join the conversation
As in the January public comment cycle, comments and replies will be published on the OPTN website, to promote transparency and trust in the national transplant system. A new commenting tool on the website, called DisQus, will allow visitors the option to share comments on social media as well.
The deadline for feedback is October 14. The committees sponsoring the proposals review and consider every comment before developing final proposals for a vote by the OPTN/UNOS Board of Directors.
Promote participation
We ask transplant professionals to help us raise awareness among transplant candidates, recipients, living donors and donor family members, to let them know that they have a voice in shaping U.S. organ transplant policy. A template flyer (8.5×11″) and poster (11×17″) are available to print out and provide to patients, to keep them informed and invite them to participate.