Audience:
All DonorNet® users
Implementation date:
March 25
At a glance:
During the Association of Organ Procurement Organizations/United Network for Organ Sharing Innovation Event — held during the AOPO Compass Meeting in San Diego, California in February — 20 organ procurement organization, or OPO, DonorNet users collaborated with UNOS information technology professionals to improve the usability of the UNetSM organ matching system.
OPO and transplant hospital members who are using DonorNet will now be able to access Organ Procurement and Transplantation Network policies easily from a link added under the "Related Links" header. The link takes users to a PDF on the OPTN website that lists all of the OPTN policies.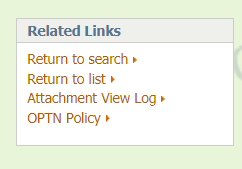 More on "Related Links":
Found in the upper right hand corner of DonorNet, "Related Links" are related to the page the user is viewing. One of the related links is an "Attachment View Log," which catalogues every time a user views, edits, adds, or deletes an attachment for a donor.
Resources
Questions?
If you have questions, please contact UNOS Customer Service at 800-978-4334 or email [email protected].