Not everyone nails it on their first try, but it happens. Just ask Julie Yeh, who was surprised to hear her name called during the awards ceremony at the 2019 United Network for Organ Sharing Transplant Management Forum.
"I wasn't even aware that the ceremony was right after the poster presentation," she said. "I only happened to be there because I'd wanted to hear about everyone else's presentations." Yeh recalls getting ready to stand up and leave because she assumed the event was over. "Then they announced my name and I was like 'wait, what?'"
The clinical coordinator for organ donation at New York-based health care network Northwell Health had won the Best of the Best award at her very first TMF, and she almost missed it.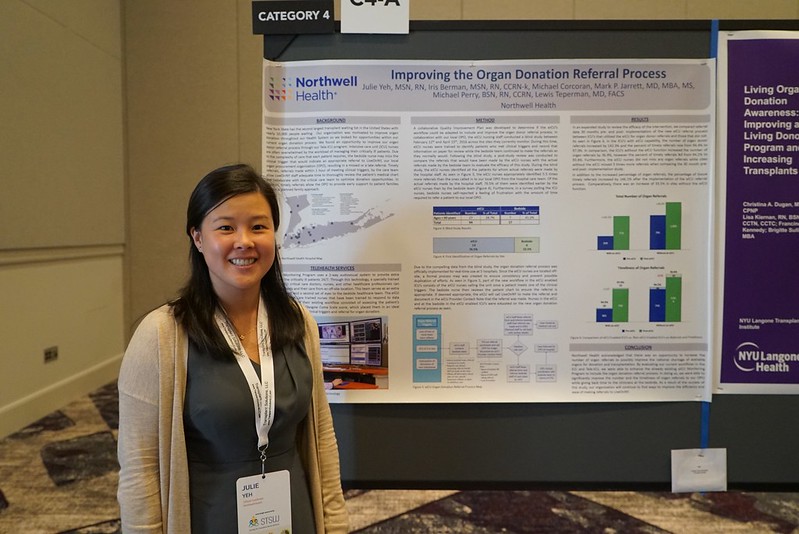 "At TMF, you're connecting with people from so many transplant programs — just speaking with them about their journey and what they're doing at their center gets the wheels spinning, and you start thinking of things you may not have even considered before."
Julie Yeh, clinical coordinator for organ donation, Northwell Health
Increasing efficiency in the donor referral process
Yeh's abstract and poster presentation, titled "Improving the Organ Donation Referral Process," was selected by her peers as best at exemplifying the spirit of collaboration and improvement in transplantation.
In the abstract, Yeh outlined the results of her team's effort to improve organ donation referrals by tapping into the resources of their telehealth intensive care unit, or eICU. Northwell Health encompasses 24 hospitals in New York and Florida, and their eICU monitoring program uses a two-way audiovisual system to provide 24/7 support to the critically ill patients who are under their care.
The Northwell Health team saw an opportunity to improve their timely donor referral process by leveraging existing resources through the eICU monitoring program. Timely referrals are made within one hour of meeting clinical triggers, giving organ procurement organizations, or OPOs, adequate time to optimize donation opportunities and provide early support to patient families.
While managing critically ill patients, bedside ICU nurses can miss clinical triggers that would prompt a referral to their OPO. In her abstract, Yeh described how Northwell Health's eICU critical care nurses were in an ideal space to monitor for early critical triggers, since their existing workflow included assessing a patient's neurological status and Glasgow Coma Scale score.
Northwell Health trained the remote eICU nurses to identify patients who met clinical triggers for organ donation and then worked with the bedside nurses to determine if a referral should be made. In the ICUs with eICU capability where the program was implemented, Northwell Health saw significant increases in both organ and tissue timely referrals. Partnering with their OPO, LiveOnNY, was crucial to their success, Yeh said.
Collaborating to improve
A nurse with both surgical and labor and delivery experience, Yeh joined Northwell Health in 2017. In addition to serving as a clinical coordinator for organ donation, she serves as the independent living donor advocate at the health system's North Shore University Hospital. She says it is important to her to feel like she is making an impact, and that she reconnects with purpose whenever she meets either a donor family or the transplant recipient.
"There are two sides of a transplant — one side is a loss of life, but at the same time you're giving somebody else the gift of life," Yeh said. "Knowing that and talking to the organ recipient families makes you want to do more to look for every opportunity to improve."
Yeh hopes that her TMF presentation on Northwell Health's improvement initiative will inspire other transplant hospitals to innovate their own processes to increase the number of transplants and support organ donation.
Best of the Best, inspiring others
TMF Best of the Best winners are invited to present at the following year's TMF. This year, Julie Yeh is scheduled to present "Improving the Organ Donation Referral Process" at the 28th annual UNOS Transplant Management Forum, which will be held from April 6 to 8 in Las Vegas. She will join other thought leaders and innovators from the field who come together to collaborate, listen and learn from one another.
The annual Heckenkemper Award for Excellence in Transplant Administration will also be presented at the 2020 TMF. Hear 2019 recipient Brigitte Sullivan describe how it felt to be honored by her peers.
Out of an abundance of caution and in response to widespread concerns regarding COVID-19, we have canceled the 2020 Transplant Management Forum, scheduled for April 6-8 in Las Vegas. Find details on the TMF page.