Kidney paired donation — KPD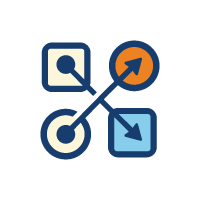 Kidney paired donation
Two or more pairs of living donors swapping to make a compatible match
Sometimes a transplant candidate has someone who wants to donate a kidney to them, but tests reveal that the kidney would not be a good medical match. Kidney paired donation, or KPD, also called kidney exchange, gives that transplant candidate another option. In KPD, living donor kidneys are swapped so each recipient receives a compatible transplant.
The Kidney Paired Donation Pilot Project
The KPD Pilot Project is part of the Organ Procurement and Transplantation Network. The OPTN is managed by the United Network for Organ Sharing through a contract with the Health Resources and Services Administration.
Vision: Every kidney transplant candidate with an incompatible but willing and approved living donor receives a living donor kidney transplant.
Mission: Develop a successful KPD program with universal access to all OPTN members that prioritizes the medical and psychosocial safety of living donors and candidates.
The OPTN registers and tracks everyone who registers in the Pilot Project. Transplant center staff enter eligible donor and recipient medical information into UNOS' computerized system. UNOS works with transplant centers throughout the United States to search for cases where the donor in each pair is compatible with the recipient in another pair (or multiple pairs). By exchanging donors, a compatible match for both recipients can be found.
Video channel
Learn more about kidney paired donation, if it's right for you, and hear stories of success
Visit the UNOS patient website, Transplant Living, to learn more about KPD and living donation.
UNOS gratefully acknowledges our sponsors
UNOS is powered by a community of generous sponsors and dedicated volunteers working together to increase transplants and make the most of every precious organ donated.