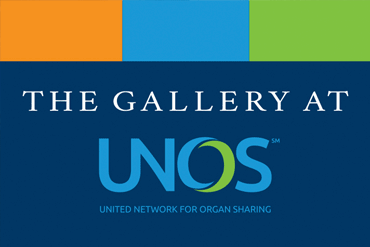 Dedicated to increasing awareness of lifesaving organ transplants and organ donation, The Gallery at UNOS regularly features artwork by local artists and those directly touched by donation and transplantation. As guests are inspired by this artwork, they are also inspired by UNOS' mission to save lives through increased organ donation and transplantation.
Honoring donors and celebrating transplant recipients
During National Donate Life Month the Gallery at UNOS is displaying works created by artists with a direct connection to transplantation.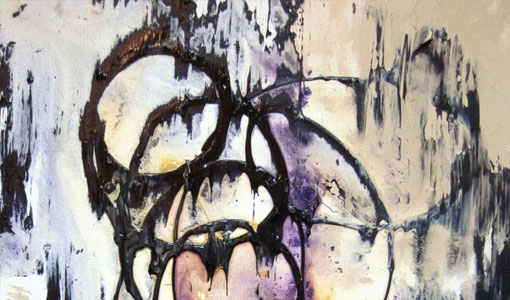 From My Family to Yours
Diane Clement is an abstract expressionist who is self taught and has been painting professionally for nearly 15 years. Diane describes her work as "pushing the envelope of painting by mixing all types of paint and liquids" including wine, beer, alcohol, polyurethane, and fire. Her work combines everything she sees, learns and feels into a permanent collection of work. Learn more at www.DianeClement.com. Deborah Lestenkof and Janice Reed are both two time kidney transplant recipients who live in Alaska and work with the Alaska Kidney Patients Association which provides support, education and advocacy to Alaska kidney patients. Deb's work is influenced by nature and includes ink, oil and acrylic on canvas and ceramic tiles. More at www.DebsCreativePaws.net. Janice creates one of a kind bead work inspired by her Alaska roots.
Because I'm Happy
Because I'm Happy features work by Happy the Artist and three generations of Happy, including his father, Robert E. Kuhn, and his sons Max and Chances. Happy the Artist is well-known for his mural art that tells a story and his rainbow colored car, the Happymobile, both of which are widely seen across metro Richmond. "It's all about driving around RVA and talking with people and seeing what people are about," says Happy. For more information, visit: www.HappytheArtist.com or www.Facebook.com/happytheartist.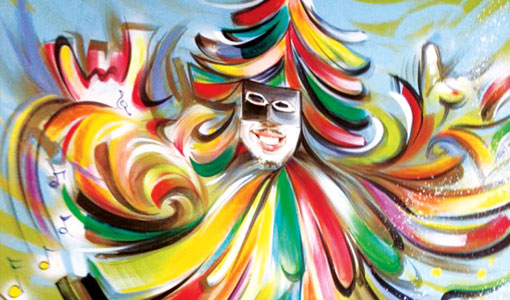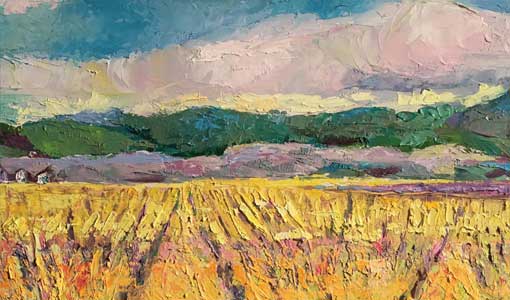 Art for the Journey
The exhibition features 40 pieces of original art showcasing paintings by friends and volunteers of Richmond based non-profit Art for the Journey, as well as artwork by AFJ program participants including women in prison, lower income seniors and at-risk youth. This group show featuring works by:
Jinx Constine
Jack Frable
Theresa Halpin
Lezlie Hierholzer
Cindy Paullin
Beverly Perdue
Kimberly Price
Steve Sawyer
Jamie Wigginton
The Saints
The exhibition features 40 pieces of original art showcasing student talent at two Richmond private schools, St. Catherine's School and St. Christopher's School.
St. Catherine's motto: What we keep, we lose: only what we give remains our own. The school's visual arts program is extensive and includes a ceramic studio, a darkroom with 10 enlargers and an arts studio. Students' artwork includes drawing, painting, printmaking, mixed media, sculpture and photography.
St. Christopher's nonacademic programs emphasize the life-affirming principles of honor, spirituality, leadership, and community service. The visual arts program feeds boys' natural inquisitiveness and interest in putting together and taking things apart including cutting, folding, sculpting and intricate wood-working projects.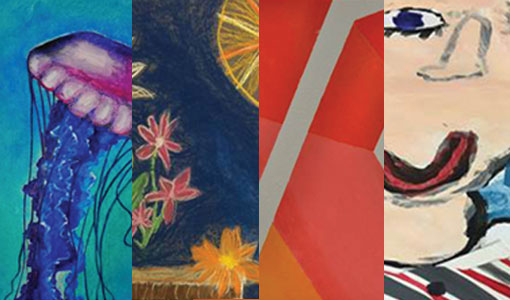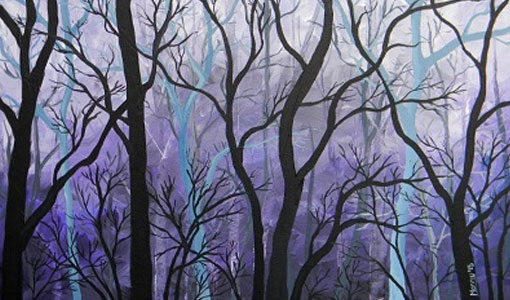 UNITED
UNITED highlights the artistic talent of United Network for Organ Sharing's 350 dedicated team members who work tirelessly to save lives through organ matching and transplantation. UNITED also celebrates the pencil drawings of Ken Schuler, a living donor who gave the Gift of Life on April 19, 1999 after watching a TV news story about a woman who needed a liver transplant. Ken become the first person in the world to donate his liver to a stranger. Ken lives in Virginia's Shenandoah Valley and walks out his front door for inspiration. His favorite medium is the No. 2 graphite pencil. View his work at KenSchuler.com
Wild Beauty Near and Far
Dr. Rob Sabatini travels near and far photographing wildlife. This collection includes 30 photographs from Kenya, Brazil, Alaska, North Carolina and Virginia. Rob is an associate professor in the VCU Department of Periodontics. View additional work at RobSabatiniPhotography.com or contact him at [email protected].
Andy Stuart uses dabs of watercolors with a paintbrush held in his teeth to create his art. Andy has little use of his arms or legs because of multiple sclerosis. He is a self-taught artist and understands line, color and spacing after working 20+ years as an architect. Andy resides at The Virginia Home where you can contact him at 804-538-1796.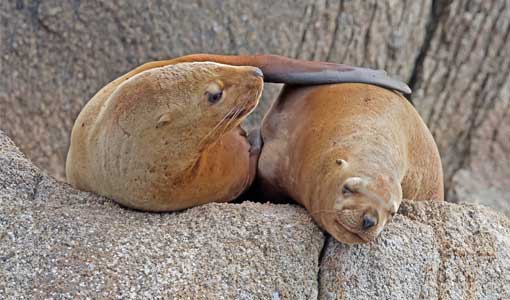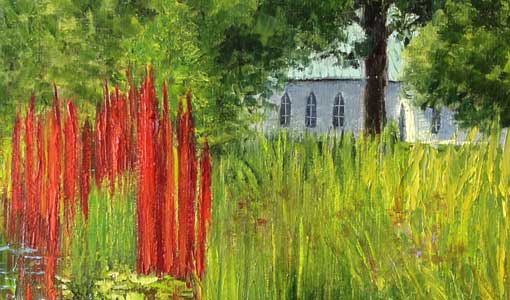 Painting with Light
Painting with Light is a group show featuring photography by heart recipient Debra O'Hearn and members of the Virginia Plein Air Painters. Debra O'Hearn, a former ER nurse, returned to her love of photography after receiving a heart transplant on Easter Sunday in 2007. Her work is inspired by and is dedicated to her donor, 29 year old Emily Kay Compton who was struck by a vehicle while jogging in Florida. Debra says Emily is always with her. Emily is her light. Virginia Plein Air Painters produce spontaneous art that captures the light and emotion of the moment. They paint en plein air which is French for "in open air." The goal is to capture the changing light that occurs throughout a day and recreate it on canvas. Learn more at VirginiaPleinAirPainters.com.
Bike 2015: Richmond Wheels
Bike 2015: Richmond Wheels features cycling art by three nationally known artists based in Richmond, Virginia. The art is available for purchase with 20% of sales supporting United Network for Organ Sharing. Featuring Andras Bality, Matt Lively and Greig Leach.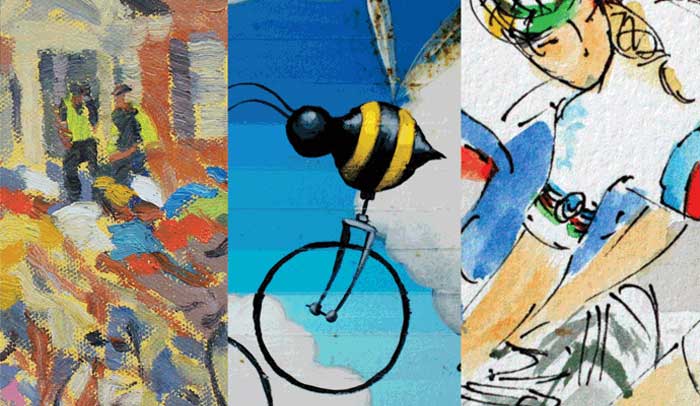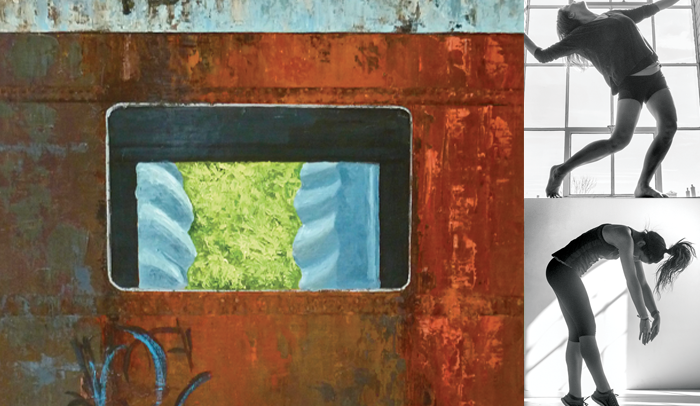 Communicating Gestures: the Visual & the Visceral
Communicating Gestures: the Visual & the Visceral includes photography, drawings and acrylic paintings from 24 different Richmond area artspace artists. artspace formed in 1988 as an association of artists interested in exhibiting their work, and it now operates a nonprofit gallery for the visual and performing arts, promoting the understanding and awareness of contemporary art.
The Art of the Scar
A scar is seen by many as ugly and something to be concealed. For transplant recipients, a scar is a mark of beauty and of life. It's a badge of honor.
Fifteen transplant recipients teamed up with 30 high school photography students to show off their scars. The unique project resulted in this exhibition of photography, acrylic paintings and mixed media.