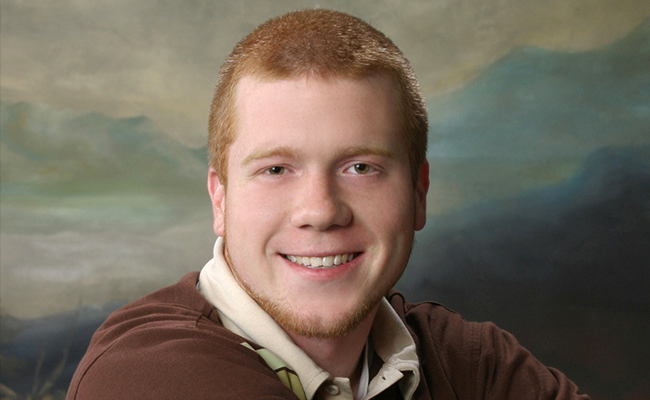 Our son, Paul Charles Harris was an 18 year old young man full of life and spirit. He was born on November 11th, 1987, in Richmond, Virginia…a Veteran's Day baby. He was born 10 days early, in of all things, a November snow storm. His sisters, Hillary and Emily were 11 and 8 years old when Paul was born. It was thrilling for our family to have a new baby, a little red head boy who had red hair, red eyelashes and copper colored eyes. Paul loved having been born on Veteran's Day, because it meant he had a holiday from school every year for his birthday.
From the time he was a little guy, Paul was filled with a spirit of adventure! Whenever he walked in the door, the house filled with noise. He always ran up the stairs, closed doors hard, and spoke with a booming voice, singing, playing CDs, playing his guitars, and shouting out any news He had to share. He always made us smile. There was never a dull moment when Paul was home.
Paul loved adventures, whether climbing trees, climbing walls, playing soccer, body boarding, scuba diving, jet skiing, attending YMCA camp, going to Boy Scout High Adventure camps, or fishing. He loved the ocean more than anywhere else on earth; it truly was his happy place. Soccer was his game and he played from the time he was 5 years old until the time he passed away. He truly lived life to its fullest.
Paul loved his family, loved God, and loved his friends. He will be remembered most of all for being a loyal friend to many people and a good faithful son, brother, grandson, nephew, cousin, best friend, and uncle.
In July of 2006, our family went to Tennessee to attend a family reunion. We had family photos taken in his grandparents' backyard and enjoyed time together. On August 13th, Paul received his Eagle Scout Award along with one of his best friends, a true 'brother', Matt Faircloth. He also started college at Tidewater Community College in August. Paul was working part time and living at home. He had good friends, a strong family, and loved being an uncle to three little ones, Morgan, Ella, and Gracelyn. Life was good and Paul was happy.
On September 13th, Paul was in a car accident on a rainy night on a dangerous road, close to our home. He slid off the road into a deep ditch and was taken to a hospital by the Nightingale Helicopter rescue team. He lived a week, a "Week of Grace" for our family and his friends. He fought hard even though he never woke up, and was surrounded by friends, church members, family and living community support. The medical professionals worked hard to save him, while we all stood by his side. On September 20th, 2006, Paul passed into the arms of Jesus.
We are grateful for the 18 years and 10 months that we had Paul with us. We are thankful that Paul chose to be an organ, eye, and tissue donor. Because of his gifts of life, 69 people in 16 states have received these gifts of life and hope. He lives on in our hearts, in the laughter of his nieces and nephews, and in the love we share with his friends (our friends) and our family. We thank God for the gift of Paul's life. We miss him every minute of every day. We miss his big crooked smile and his way of saying, 'Yo", whenever he first walked in the door.
We have worked to keep his memory alive and I have served for 12 years as a donor advocate speaking and working to bring hope to others through donation. This is Paul's legacy, which we as a family, and individuals, will strive for as long as we can. Hope.
Submitted on behalf of: Lucinda Wills Harris (Cindy) (Mother)