Live, work and play in the River City
Discover history and adventure in the historic Richmond region. Here more than 400 years of American history live on through magnificent architecture, monument-lined cobblestone streets, and world-class museums for an experience that is anything but textbook.
Richmond region is home to 30 colleges and 80,000 students, keeping the city young and full of ideas. Immerse yourself in the arts, nationally-known universities and distinctive historic sites, a celebrated symphony and professional ballet company, and numerous theater companies and art galleries. Explore one of the nation's oldest and most storied African-American neighborhoods, Jackson Ward. See where poet Edgar Allan Poe began his literary career.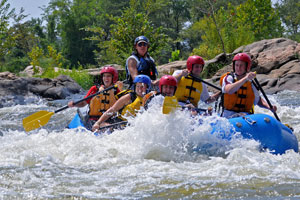 But the area makes history in other ways, too. Jump in a kayak and take on the Class IV rapids that run right through the center of downtown. Explore Richmond's antebellum architecture. See where Patrick Henry said, "Give me liberty or give me death." Check out world-class exhibits at the Virginia Museum of Fine Arts.
Named one of Frommer's Top Destinations for 2014, Richmond is a small city with big charm — and one of only three locations on the list. "Richmond is coming into its own as a choice regional destination with a growing slate of breweries, farm-to-table restaurants, and even white-water river rapid activities cutting right through downtown," writes Frommer's." While you weren't looking, Richmond got cool."
In September 2015, the city hosts the 2015 UCI Road World Championships. More than 1,000 of the globe's best cyclists from 75 countries will compete in 12 championship races across nine days. Savor the flavors of more than 1000 area restaurants, from down-home southern barbecue and uptown haute cuisine to award-winning wineries, local craft breweries and mom-and-pop eateries cherished by locals. "Richmond is strutting with confidence, moving beyond its Civil War legacy and emerging as a new player on the Southern art and culinary scene," writes the New York Times.
Richmond is just two hours from the beach, the Blue Ridge mountains and Washington, DC. Its affordable homes and relaxed vibe make it a favorite place to raise a family.
Rafting photo courtesy of Richmond Region Tourism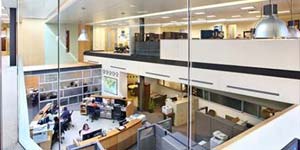 Work in historic downtown Richmond
Work to support our lifesaving mission in Richmond's historic downtown. Our two Richmond locations are located in the heart of the city, just a few blocks from some of the city's best restaurants and monthly art walk. Our offices are modern, inviting and loaded with perks including a memorial garden, rooftop deck, on-site fitness center, café and more.