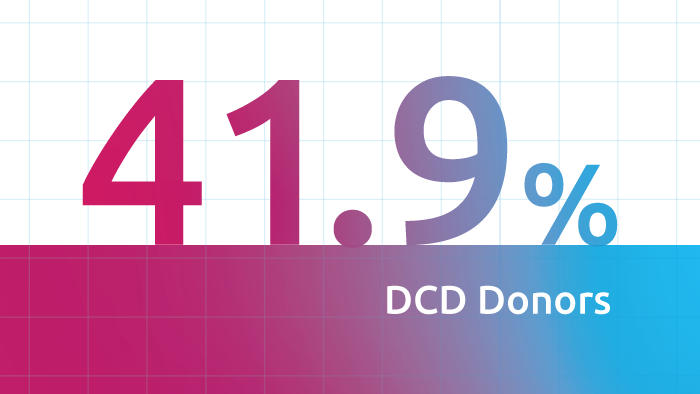 As one of the 57 organ procurement organizations* that serve the country's transplant system, LifeShare of Oklahoma has helped drive a record-setting increase in organ donation. In 2019, OPOs recovered nearly 12,000 deceased donors, an increase of 38 percent since 2014. During that same time period, LifeShare of Oklahoma increased recoveries of deceased donors in their donation service area by 39.7 percent, exceeding the national average, according to data available from the Organ Procurement and Transplantation Network.
While the COVID-19 crisis has impacted organ recovery and transplant, OPOs are adapting and continuing their lifesaving work. In a recent interview, LifeShare of Oklahoma president and CEO Jeff Orlowski discussed how his organization's core values keep his team focused on the work of saving lives during the pandemic and beyond.
Q: LifeShare of Oklahoma's core values are centered on valuing a can do attitude, having passion for the mission of saving lives and caring for teammates and the community. Your strategic anchors are people, change and relationships. How do these concepts drive your organizational approach?
We are a people-first organization. That is our guiding principle.
Our donors are people, our donor families are people, our hospitals are people, and our team are people. And so we always want to make sure that we're making decisions in a way that will have a positive impact on people.
When I came to LifeShare, we had a tremendous amount of development to do as an organization. I asked everybody to not be intimidated by change, but instead to embrace it. Bringing change is not an indictment of what came before, it's an acknowledgement that there is opportunity to do better. We've woven that theme of change through everything we've done for the last 8 1/2 years.
Q: What does change mean as a core value in relation to transplant?
We work in a field where change is natural. It's happening around us constantly. There will always be new drugs, new techniques and new opportunities.
The HOPE Act is a great example. There used to be a ban on HIV positive donors—and now there's not. I always point to the fact that in 1953, you couldn't have a kidney transplant, and here we are less than 70 years later, and it's been a common therapy for decades. Even more recently, when I started in the field, isolated lung transplants were just not feasible for a variety of reasons—it's only been in the last really 30 or so years that isolated lung transplants, as opposed to heart-lung blocs have become a really viable operation. Since change happens anyway, embracing it allows us as an organization to talk about what's possible.
All change is the result of many people working together to adapt and improve. Having change as a strategic anchor has been so important in this crisis.
Q: How have your organization's core values helped guide LifeShare of Oklahoma through the current crisis?
Our core value of can do has served us very well. Can do is not just do it. We're not talking about being Nike. Can do is about the fact that we're creative. When we look at a challenge, we'll look for alternative ways to get to the desired outcome.
In terms of the pandemic, the concept of can do has been particularly instrumental in making sure our staff were safe while we keep doing the important work of recovering donors. Protecting both staff and our mission have driven us from the very beginning. When we focused on that, we were unencumbered by any other details. We just worried about getting the job done safely. When you do that, you can be more creative and kind of let go of your preconceived limitations on yourself.
We have 135 staff between our Oklahoma City and Tulsa offices, and during this crisis we have had to lean into real change as an organization­—with amazing results.
Q: What are some of the changes your executive team made to adapt in response to COVID-19?
That first weekend of March 13, we started mainly trying to get our clinical staff converted to telecommute so they wouldn't cross-contaminate one another. Their safety was a priority in those early discussions, but we didn't really understand then what we were up against compared to what we knew just a few weeks later.
After that I took a step back and started assessing the global organizational impact. That was when staff safety and well-being started to become the guiding principle, and it was pretty easy to see how we could keep doing our mission.
Q: What do you think will be some of the permanent changes that result from the crisis?
I think one of the silver linings is that it has forced the community to rethink the concept of jumping on a jet in the middle of the night, flying a couple hours and riding around in the back of an ambulance to accomplish something that can be accomplished without everyone traveling. That's not just OPO staff—our transplant partners are rethinking letting a local recovery surgeon recover and send an organ, because that means they can also avoid flying. This is a benefit overall in terms of broader allocation—if we can avoid putting a surgeon and a perfusion staff member or surgical recovery coordinator on an airplane for two hours one direction, and then sitting around at a hospital, waiting for everything to go and then doing the case, and then two hours more on a plane back, then those people can be home tucked in bed and fresh and wide awake when it's time to do the transplant. We keep the transplant team safe and rested, and we make maximum use of our resources so that more lives are saved.
Q: You have spoken internationally about organ donation and recovery in the United States. What are your observations about how the U.S. system adapted to COVID-19 compared to other countries?
The COVID-19 crisis has actually illustrated how effective American OPOs are.
Other countries saw donation and transplantation basically grind to a halt, which was not the case in the U.S. We had considerably higher rates of transplants than many other countries that were tremendously impacted by this, which I think is a testament to our ability to refocus and reinvent ourselves in order to keep people getting transplanted.
When we evaluate opportunities for improvement, we must acknowledge that we're improving from a position of strength. We're fortunate to have extremely bright and capable people who, when faced with an unprecedented pandemic, have been able to continue to save lives through donation and transplantation through a massive amount of collaboration and teamwork, on a national level. While we always need to strive for improvement, we shouldn't underestimate the factors that make us so successful already.
*As of Jan. 1, 2023, there are 56 OPOs. As of Jan. 1, 2021, there were 57 OPOs and 57 DSAs across the country.