UNOS collaborated with eight global transplant organizations and societies on four COVID-19 organ donation and transplant town hall webinars that have received more than 25,000 views.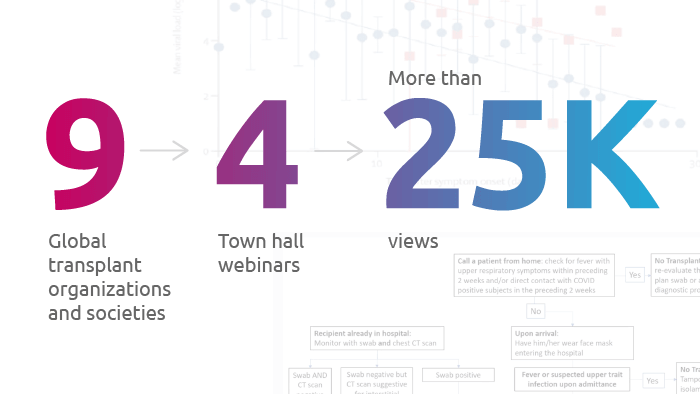 Global organ donation and transplantation organizations acted swiftly to share real-world experiences.
As COVID-19 cases began increasing globally, conversations among health care providers about the pandemic's potential impact on transplant started to emerge.
Within a few days, organ donation and transplant communities from around the world assembled to collaborate on a webinar series sharing real-world, global experiences for the organ donation and transplant community. Along with United Network for Organ Sharing, participating organizations included:
United Network for Organ Sharing
The societies launched their first live, collaborative webinar "COVID-19: Organ Donation and Transplant Town Hall," on March 23, and the 1,000 available seats filled up within a few hours. Collaboration continued over the following weeks with three additional webinars, including the most recent webinar on May 11, covering topics ranging from:
Presentation, diagnosis, treatment and prevention
Getting to transplant
Operational issues
Screening donors and candidates
Protecting the workforce
Ethical issues
The societies aren't done yet, with future plans to produce more collaborative webinars on navigating COVID-19, as well as topics unrelated to the pandemic.
Read more about the COVID-19 pandemic and collaboration within the transplant community.