Improvement: FEATURE
How organ procurement organizations are improving performance and increasing transplants nationwide
Getting to Yes
"When you ask a donor family, sometimes they say no. And then you might share with them something that gets them to understand what can bring a lasting legacy for the family. It can help them make sense of what happened sometimes."
Tracy Giddens-Jarrett
Manager of Organ Recovery Services, LifeNet Health of Virginia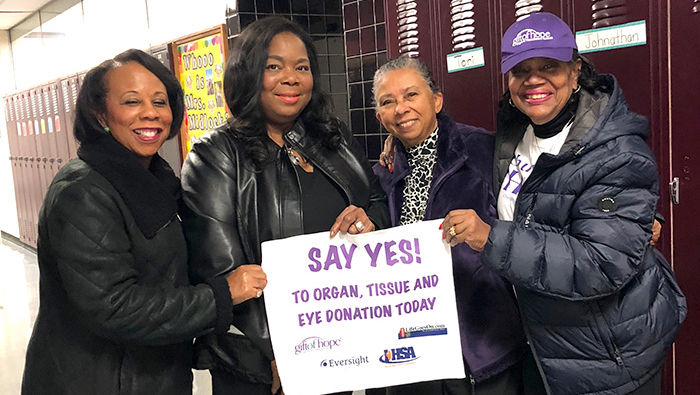 Fostering community dialogue
Successful OPOs are constantly building new ways to foster community dialogue. The Maryland area served by The Living Legacy Foundation has a high percentage of African-Americans in need of transplant but grapples with low African-American donor registration and family consent rates. So Living Legacy developed The Decision Project, an education and outreach initiative to address that head on. By building a task force and forming partnerships at the grassroots in Baltimore, they are focused on combatting misconceptions about organ donation and rebuilding trust. After launching in the middle of 2018, Living Legacy was able to recover over 4.6 percent more donors by the end of the year than in 2017.
Every donor recovery begins with a yes.
Tracy Giddens-Jarrett, Manager of Organ Recovery Services for LifeNet Health of Virginia, reflects on how many she has witnessed in her 15 years at LifeNet. "I wish I'd found this job much earlier. People might think it would drain you to work so closely to death, but it doesn't drain me. It really is not that kind of death. It's more of a celebration—and that's what people want you to do for them. Give them a celebration of their loved one's life and give them a purpose and meaning for their death."
Originally published April 30, 2019
*As of Jan. 1, 2023, there are 56 OPOs operating across the country.

"Our mission is so important that we are doing a disservice to donor families and those on the waiting list if we're not always continually striving to be the best organizations we can be."
Sue Dunn
President, Donor Alliance of Colorado

2018 was a year full of yes—more families than ever consented to donate the gift of life at a time of loss.