Improvement: FEATURE
Getting to Yes
How organ procurement organizations are improving performance and increasing transplants nationwide
It all begins with a "yes." A yes that must come at the most painful time. Marion Shuck, Director of Family and Community Outreach at Chicago-based Gift of Hope, recalls what she describes as the powerful "big girl decision" a 16-year-old had to make a few years ago.
In the hospital, just hours after her 40-year-old mother's death in a car accident, the teenager made the choice to consent to organ donation. It was very hard, says Shuck, but understanding how important donation is, she did it—for her mother and for the people whose lives were saved as a result.
2018 was a year full of yes—more families than ever consented to donate the gift of life at a time of loss.
Because of the innovations and continuous improvements of the nation's organ procurement organizations—which are responsible for helping people say yes to organ donation—71 percent of OPOs saw increased donations in 2018, and 66 percent had record years in 2017 or 2018. Overall, organ transplants in the U.S. saw their sixth consecutive record breaking year in 2018, with an 18 percent increase in deceased organ donors between 2015 and 2018.
The 10,721 deceased donors recovered last year meant 29,680 transplants for people who may have been waiting for years.
"There are so many different things happening—all 58 OPOs have the same core mission," says Elling Eidbo, CEO of the Association of Organ Procurement Organizations (AOPO). "But there is an enormous amount of creativity that each of them deploys to improve. These involve new ideas, new technology, and thinking outside the box."
"First and foremost has always been maintaining public trust," says Sue Dunn, CEO of Donor Alliance of Colorado and president of the OPTN Board of Directors. OPOs, she says, need to "ensure that we maximize all donations in order to meet the needs of recipients. And it's important for donor families to know their loved one is leaving a legacy going beyond what they did in life—that's very powerful and meaningful."
"When you ask a donor family, sometimes they say no. And then you might share with them something that gets them to understand what can bring a lasting legacy for the family. It can help them make sense of what happened sometimes."
Tracy Giddens-Jarrett
Manager of Organ Recovery Services, LifeNet Health of Virginia
Educating the community
How each OPO and their staff drive toward improvement and innovation looks different, because every service area is unique. For Bobby Howard at LifeLink of Georgia, it means working for almost 25 years to increase African American donor awareness and registration. "Donors come from the community. If that family doesn't register and they say no, you get nowhere."
As Director of LifeLink's Multicultural Donation Education Program (and as a kidney recipient himself), Howard organizes continuous community engagement and outreach across the state of Georgia. The result has been a significant and sustained increase in African-American organ donation in a DSA with a greater than average minority population. "Once you put effort into your educational activities in the community, your donor numbers will increase. But if you don't put the effort in that piece of it, they won't. Invest in the effort and you will see the improvement."
Knowing the community
For an OPO, engaging the community means knowing the community. That's why Gift of Hope developed an Interfaith Advisory Council that has met quarterly in Chicago since 2015. A broad coalition of faith leaders come together to help them better understand how to support the diverse faith and ethnic communities of Chicago and northern Illinois. And when they accompany Gift of Hope's donation specialists to hospitals, they comfort families in a time of loss and reassure them donation is not only allowed but in fact supported by their faith system.  The organization also has a very active network of Donate Life Ambassadors and other community volunteers spreading the message. Gift of Hope has seen the benefits of this outreach—they recovered 13.6 percent more donors in 2018 than the prior year.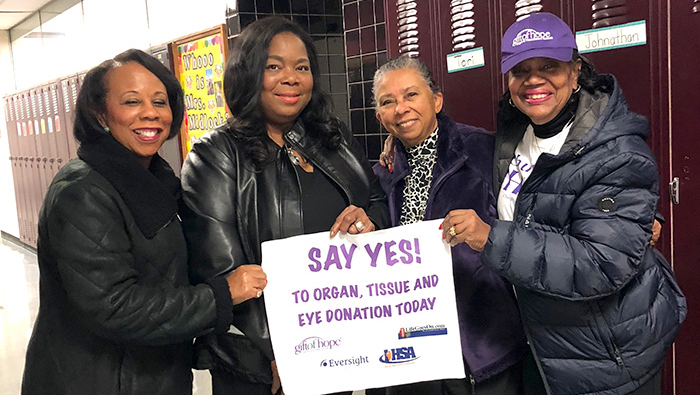 Fostering the community
Successful OPOs are constantly building new ways to foster community dialogue. The Maryland area served by The Living Legacy Foundation has a high percentage of African-Americans in need of transplant but grapples with low African-American donor registration and family consent rates. So Living Legacy developed The Decision Project, an education and outreach initiative to address that head on. By building a task force and forming partnerships at the grassroots in Baltimore, they are focused on combatting misconceptions about organ donation and rebuilding trust. After launching in the middle of 2018, Living Legacy was able to recover over 4.6 percent more donors by the end of the year than in 2017.
Every donor recovery begins with a yes.
Tracy Giddens-Jarrett, Manager of Organ Recovery Services for LifeNet Health of Virginia, reflects on how many she has witnessed in her 15 years at LifeNet. "I wish I'd found this job much earlier. People might think it would drain you to work so closely to death, but it doesn't drain me. It really is not that kind of death. It's more of a celebration—and that's what people want you to do for them. Give them a celebration of their loved one's life and give them a purpose and meaning for their death."

2018 was a year full of yes—more families than ever consented to donate the gift of life at a time of loss.