United Network for Organ Sharing innovators took home two awards recognizing their dedication to improving the performance and efficiency of the nation's organ donation and transplant system at the Richmond Technology Council's annual rvatech gala on Oct. 14.
The gala celebrates the breakthroughs, advancements, and outstanding technologists that are a part of the Richmond, Va., technology ecosystem, where UNOS is headquartered. At the award ceremony, UNOS staff members were recognized with the Innovation in Public Sector and Innovation in Private Sector – Small Capital awards.
"The awards are a testament to how we work together across the company and with the community, leveraging advancements in technology to ensure fairness and equity in access to transplants for all patients," said UNOS Chief Technology Officer Alex Tulchinsky.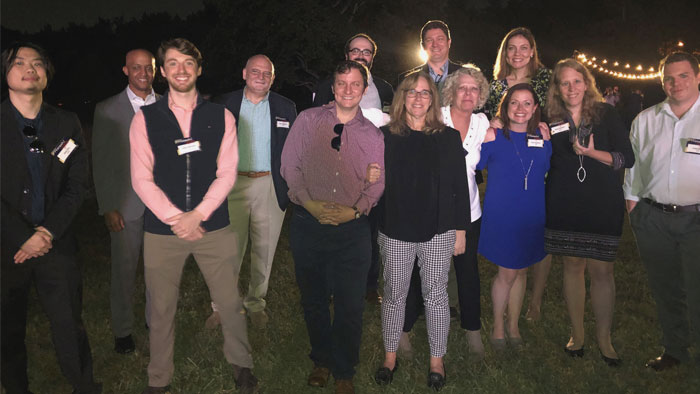 The Innovation in Public Sector award is granted to a public agency whose creative use of existing, or development of new, technology enhances processes, methodologies and/or services for their own or others' benefit. It was presented to staff members who collaborated on the Organ Tracking Service, which provides organ procurement organizations and transplant hospitals across the country with the ability to monitor shipped organ packages through a single lens, regardless of carrier.
"Every organ donated is a gift of life," said UNOS IT Customer Advocacy department Director Amy Putnam. "Therefore, it is dramatically demoralizing to donor families when an organ donated by their loved ones does not get placed due to transportation issues."
Recognizing that there was no single national system that provided a streamlined organ tracking service for donated organs in transit to transplant hospitals, UNOS staff members devised a solution.
UNOS partnered with the device tracking company GEGO to provide an integrated service that enables OPOs and transplant professionals to track organ packages as they move across the country. "The service gives peace of mind to professionals, as well as patients, that we are taking the best care of the gift of life," said UNOS Labs Program Manager Casey Humphries.
As a data-driven organization working in partnership with leaders in technology, research and science, UNOS is continuously in search of innovations that increase performance and efficiencies. The WaitlistSM Registration Unacceptable Antigen APIs project, which was recognized with the Innovation in Private Sector – Small Capital award, is just one example of those innovations.
Every transplant candidate must be registered on the national waiting list by a transplant hospital using the UNetSM Waitlist web application. Registering a patient requires the manual reporting of more than 100 key demographics and clinical data elements.
"The Health Care Integration program at UNOS saw this as an opportunity for improvement," said Dean Wilson, who manages the program. Wilson led the project, which uses application programming interfaces to allow any authorized external system with the ability to integrate directly with the Waitlist web application so that data can be shared bi-directionally between systems.
"Data drives the mission at UNOS, ensuring we can match the right organ to the right patient at the right time," Wilson said.
The project helps transplant professionals ensure the accuracy of the transplant waiting list 24/7, 365 days a year, without the need for the end user to ever leave their laboratory information system.
"This project is a game changer for the transplant community, enabling secure, real-time data submission to the Waitlist from hospitals and labs across the country," said UNOS Business Architect Bonnie Felice.
The Waitlist Registration Unacceptable Antigen APIs project is one of many technology innovation projects underway at UNOS that leverage APIs to allow transplant professionals with the ability to share vital data faster and more securely than ever before.
"The organ transplantation system in the U.S. has never worked better than it does today, but there is always more work to do," Tulchinsky said. "The rvatech awards bestowed to UNOS staff members at this year's gala recognize our commitment to continuous improvement, which has driven eight consecutive years of increases in the number of transplants performed nationwide, and we will not stop innovating until every person on the waiting list has access to a lifesaving organ transplant."