Technology for transplantation
UNOS understands how essential communication technology is to the transplant community. Without the ability to share, deliver and update data in real time, the process of organ donation and transplantation doesn't function. No longer is information transmitted by phone and fax, but instead through specialized database platforms that deliver vital information securely and instantaneously. As information technology evolves, UNOS continues to develop proprietary, secure, online-based systems to place organs efficiently and collect essential data to improve the transplant field.
UNetSM  matches lifesaving organs with the patients who need them
UNOS' electronic network, known as UNetSM, allows transplant professionals to register transplant candidates on the national waiting list, match them with donated organs, and enter vital medical data on candidates, donors and transplant recipients.
UNOS systems are designed for continual operation, as any lapse in system availability could mean transplant candidates lose an opportunity for a lifesaving transplant. UNOS also continues to adapt to our members' emerging use of and need for newer technology such as mobile devices and tablets, and to integrate effectively with the increasing use of electronic medical records.
UNOS also maintains a uniquely comprehensive database of all U.S. transplant candidates and all who have donated organs or received transplants since October 1987. This database serves the interests of transplant professionals, researcher and the public.
DonorNet® increases efficiency and ensures equity
A key technology application within the system, DonorNet®, electronically manages organ offers by collecting and filtering data before sending offers to hospitals with compatible transplant candidates. Specialized algorithms take into account a broad spectrum of data and vital statistics related to both donors and the potential recipients. This system allows the rapid and efficient consideration of organ offers, which can lead to more lifesaving organs being accepted and transplanted.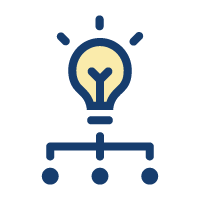 Interested in increased efficiency?
UNOS technology specialists develop APIs that connect OPOs, transplant hospitals and histocompatibility centers so their applications can seamlessly exchange data with UNetSM applications. Learn about available APIs.
Creating a fair and equitable system by increasing access to organs
What's equity in access? "More fair for more people," says UNOS business architect Bonnie Felice. "The organ-specific committees are always looking at ways to increase the number of transplants and increase equity in access."