DCD donors account for 41.9 percent of the OPO's deceased donor recoveries through the end of October.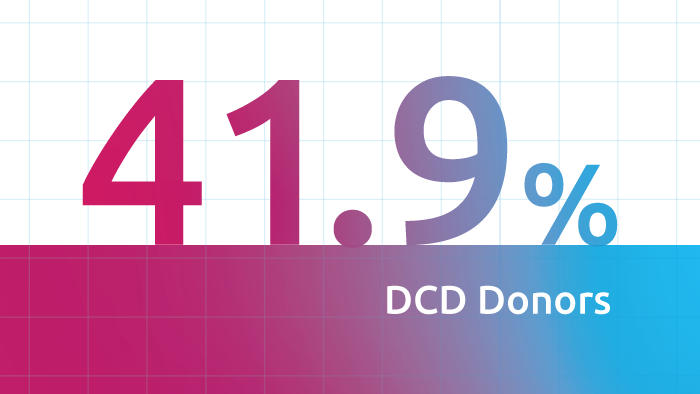 In spite of COVID-19, LifeShare of Oklahoma continues to increase DCD donor recoveries and is on track to exceed its 2019 numbers.
LifeShare of Oklahoma is on track to have a record year for recovery of donation after circulatory death (DCD) organ donors. A primary strategic goal of the Organ Procurement and Transplantation Network is to increase transplants. LifeShare of Oklahoma is helping to achieve that goal by building upon effective practices needed for organ recoveries and saving more lives.
Using experience to drive improvement
CEO Jeff Orlowski says his OPO has increased DCD recoveries by remaining committed to key strategies. "Throughout our journey, we have seen every attempted DCD as an opportunity to learn and to innovate," he said. He notes that while the OPO has expanded its maximum age for DCD to 70 and beyond, any failed attempts at donation or transplanting an organ have not dissuaded his team from continuing to pursue older DCDs. "We have an organizational mentality that every referral is a donor until proven otherwise, and have evolved to a point where we use our own experience to drive our approach to each DCD, rather than using stagnant criteria and theoretically predictive tools developed elsewhere," he said.
Data collected by the OPTN through October show that 41.9 percent of LifeShare of Oklahoma's deceased donor recoveries this year have been DCD donors. This shows an increase over last year, when the OPO's DCD population was 40.6 percent through December.
Building effective relationships to increase authorizations
A key factor in LifeShare of Oklahoma's success has been having a full-time recovery surgeon on staff. This allows the OPO teams to nimbly facilitate rapid, or multiple, DCD cases without having to locate an available, trained surgeon.
Another important factor is collaboration. "A significant component of our DCD program's growth, as well as our overall growth, is based upon building effective relationships with our hospitals and in improving our support of families through the authorization and donation process," Orlowski said. "With all of these strategies in place we continue to pursue a level of 50 percent DCD, while simultaneously growing our donation after brain death population."
OPOs are recovering more DCD donors than ever before
LifeShare of Oklahoma is not alone in working to increase DCD recoveries to save more lives. According to the most recent OPTN data, DCD donors comprised 25.3 percent of all deceased donors recovered through the end of October this year. This is an increase over 2019, a record-setting year for recovery of deceased donors, of which DCD donors comprised 22.9 percent of all donations. The increase in recovery of DCD donors has been steady over the past five years. In 2015, DCD donors represented only 16.5 percent of all deceased donors recovered in the country.
Collaborating to improve
United Network for Organ Sharing will soon launch a collaborative improvement project that aims to identify and share effective practices related to DCD recovery. The new project aligns with a number of initiatives that fall under the strategic goal of increasing the number of transplants nationwide, and demonstrates how UNOS works together with the donation and transplant community to find ways to continuously improve the system, making lifesaving organs available to even more patients in need.