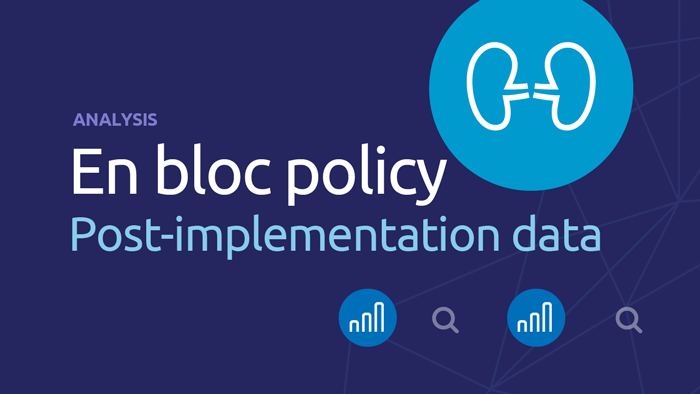 Data show 2019 policy change intended to efficiently place and utilize kidneys from small donors and maximize longevity of organs has doubled proportion of en bloc transplants to low EPTS patients.
With more than 90,000 candidates currently waiting for a kidney transplant, utilizing every possible organ is crucial. One strategy to increase the donor pool is to use en bloc kidneys from small pediatric donors. En bloc kidney transplantation occurs when two kidneys from the same small pediatric donor, along with the vena cava and aorta, are transplanted into a single recipient.
In 2019, the Organ Procurement and Transplantation Network implemented a new policy to improve allocation of en bloc kidneys and standardize their transplantation across the country. The policy change was in line with OPTN strategic goals to increase the number of transplants, improve equity in access, and improve recipient outcomes. United Network for Organ Sharing research scientist Amanda Robinson recently presented findings from the first 11 months of post-implementation data at the 2021 American Transplant Congress.
The benefit of en bloc kidney transplantation
Studies have shown that en bloc kidney transplants offer comparable to superior graft survival and outcomes as compared to single kidney transplants from donors of the same weight. But prior to 2019, there was no OPTN policy regarding allocation of en bloc kidneys – it was done at the discretion of the organ procurement organization (OPO) that recovered the organs. This resulted in inconsistent transplant rates of en bloc kidneys across the country.
The donation and transplant community sought a consistent en bloc policy, and also pushed for a more clearly defined allocation algorithm for en bloc kidneys in relation to their kidney donor profile index (KDPI).
"Part of the motivation for the new policy is that our kidney allocation system is driven by KDPI," explains Robinson. "KDPI measures donor quality assuming a single kidney is transplanted. Because en bloc doesn't involve single kidneys, KDPI doesn't reflect the benefit of receiving both kidneys."
Defining en bloc and maximizing longevity of organs
In their policy development process, the OPTN Kidney Transplantation Committee developed a workgroup to address details of en bloc transplant, including:
Determining what kidneys could be offered en bloc
Defining who could be offered these kidneys
Creating a donor weight threshold of less than 18 kg for en bloc kidneys
Masking the KDPI score for en bloc kidney offers to prevent potentially eligible candidates from being screened off the match run
In addition to standardizing en bloc kidney allocation nationally, this policy change also directed en bloc kidneys with good expected outcomes to patients with a lower estimated post-transplant survival score (EPTS). Candidates with a lower EPTS score are expected to experience more years of graft function from high-longevity kidneys compared to candidates with higher EPTS scores. Directing en bloc kidneys to low EPTS patients is intended to maximize the longevity of the organs.
Robinson collaborated with Vince Casingal, M.D., immediate past committee chair, and Martha Pavlakis, M.D., current committee chair, on the ATC presentation. Data from the first 11 months post-implementation revealed:
There were 166 en bloc deceased donor kidney transplants post-implementation
The proportion of en bloc transplants to EPTS 0-20% recipients more than doubled from pre-policy (29.5%) to post-policy (75.5%)
The proportion of pediatric recipients of en bloc transplants also increased, although this increase from 0.5% to 1.2% reflects a change of one transplant
Says Robinson, "Now, a patient's surgeon and their hospital can decide if en bloc transplantation is something they can offer candidates, without being limited by regional differences."
The OPTN Kidney Committee will continue to monitor the impact of the policy.
Read the abstract
Robinson A, Pavlakis M, Casingal V. Changes to Allocation of En Bloc Deceased Donor Kidneys to Low Epts Patients [abstract]. Am J Transplant. 2021; 21 (suppl 3).