The OUT (Organ Utilization Tool) is designed to help increase organ utilization.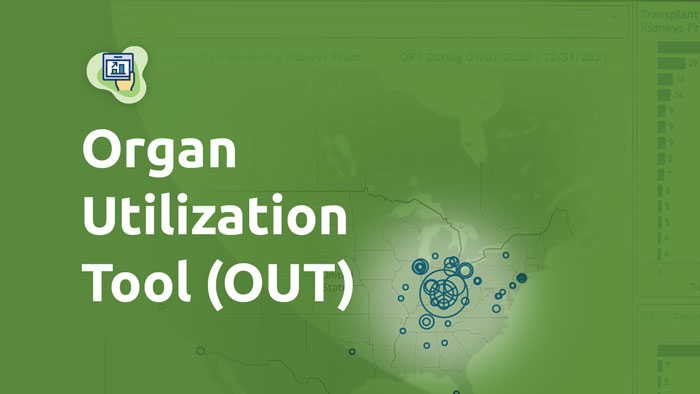 Enhancements to this tool give OPOs insight into organ movement, timing of responses and the use of provisional yes at each program.
​
Organ procurement organizations (OPOs) need tools that allow them to visualize differences in organ acceptance, responses and timing of responses among all the transplants programs within 250 miles of their donor hospitals. The Organ Utilization Tool (OUT) allows users to quickly and interactively review the specific and aggregate information they need to get more organs transplanted quickly.
"This is the first major overhaul to the OUT tool since its launch," says Sarah Taranto, UNOS Transplant Analytics Service Line Leader. "Due to all the recent changes in allocation, we heard there was a need to better understand the movement of organs across the country, along with more comparison data across the transplant programs that OPOs are now most frequently working with to allocate organs. The new tool is the result of those efforts."
Meaningful visualizations
The OUT tool continues to take organ offer and acceptance data out of complicated spreadsheets and displays it in interactive, intuitive visualizations. In addition to the existing functionality, maps now display the movement of organs out of OPOs and the source of organs transplanted at each transplant program in the U.S. The updated tool also allows OPOs to do a deep dive into the timing of responses and use of provisional yes at nearby transplant programs, including comparisons across the programs.
Collaboration with transplant programs
Using data from the OUT tool, OPOs can have more transparent conversations with transplant programs about their organ acceptance practices. This includes examining the specific characteristics, outcomes and refusal reasons for the organs they turned down that were transplanted elsewhere. While the majority of the tool still focuses on the last two years of offers, the new Outcomes tab provides detailed outcomes data for the last three years of offers, allowing OPOs to view and share insights into the longer term outcomes of their recovered organs.
Learn more about custom data solutions offered by UNOS.