As of the date of report, no organs from donors testing positive for COVID-19 have been transplanted.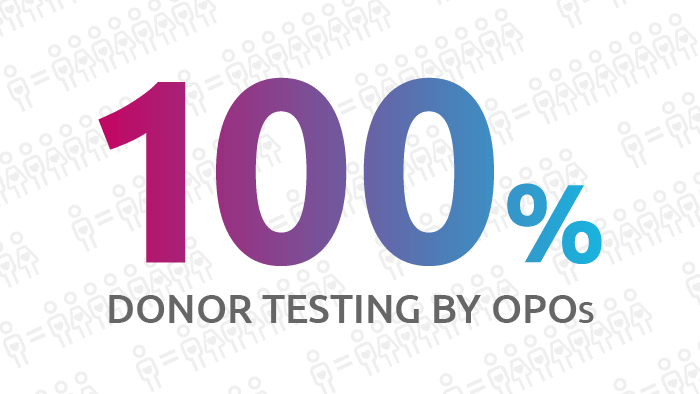 Using the donor infectious disease and free-response text fields in DonorNet®, all 58 OPOs reported COVID-19 donor testing results.
In a July 1 report prepared by members of the Organ Procurement and Transplantation Network, data show that all organ procurement organizations (OPOs) are reporting having tested deceased donors for COVID-19. These data are from the new COVID-19 data fields in DonorNet, but also occurs in free-text fields and in attached lab results. Prior to the pandemic, DonorNet already captured information regarding potential infectious diseases identified as a result of testing performed on deceased donors, but not COVID-19.
The addition of the new COVID-19 data fields was part of a package of emergency actions taken in response to the pandemic. Approved by the Executive Committee of the OPTN Board of Directors in March and April, the emergency measures were collectively intended to help members document the effects of COVID-19 on organ donation and transplantation and to help focus resources on essential clinical services in the short term. The July 1 report presented a range of data showing effects, to date, of these operational actions.
By adding COVID-19 testing to DonorNet, accepting transplant hospitals can see whether donors have been tested, and if so, what the results are. DonorNet COVID-19 infectious disease fields have been examined weekly since April 21 when the new COVID-19 testing data collection began. The July 1 report included deceased organ donors who had at least one organ recovered for purpose of transplant.
All OPOs that recovered donors since April 21 reported COVID-19 donor testing results through the donor infectious disease fields in DonorNet, or through free-text fields or attachments. Entering this data is not mandatory. As of the date of the report, 100 percent of donors have been tested and no organs from donors testing positive for COVID-19 have been transplanted.
The full report was presented to the executive committee when it met virtually July 30. At the meeting, the committee extended the expiration date for the emergency measures, which were originally were set to expire Sept. 30. They will now expire Dec. 31. In accordance with OPTN bylaws, these actions have been posted for retrospective public comment in the current cycle, which opened Aug. 4 and closes Oct. 1.