Updated weekly, new OPTN metrics dashboard provides comprehensive information about donation and transplant trends.
A new interactive data visualization accessible in the Data section of the Organ Procurement and Transplantation Network website provides a comprehensive source of OPTN information to the donation and transplant community. Professionals, patients and the public can see at a glance the metrics used to measure the success of the nation's transplant system. "Sharing this kind of data fosters trust in the transplant community and show transparency," says Read Urban, UNOS senior business intelligence analyst.
What dashboard users can expect
Dashboard users have access to a range of donation and transplant trends, including:
Trends related to:

Waitlist additions
Transplants performed (both living and deceased donors)
Donors recovered

1-year patient and graft survival trends
Data related to equity in access to transplantation
SRTR transplant and waitlist mortality rates
Data can be filtered by OPTN region, organ type and donor type. Trends in waitlist additions, transplantation and donation are updated weekly, with other metrics updated when they become available. Users are also able to see transplants and donors recovered and waitlist registrations by state in the past 12 months (these data are updated monthly).
Users are able to download data from the dashboard, and a user guide provides detailed documentation about all the data presented and how it is organized.
The UNOS business and data products team works to provide a comprehensive source of OPTN information to the community. The goals for this project are to offer the community transparency into the metrics used to measure the success of the OPTN, and also to allow users to investigate current and historic trends in transplantation. Please contact the team directly at [email protected] with any questions or feedback.
The U.S. has the highest-performing organ donation and transplant system in the world, and set a record for the most lives saved by deceased donor organs in 2020. Read more.
OPTN metrics dashboard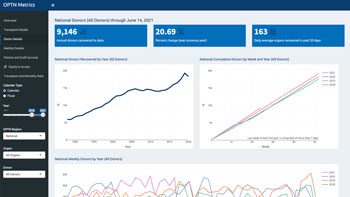 Explore current and historic U.S. donation and transplant trends at national and regional levels.
Data visualizations for:
donors
transplants
patient and graft survival
changes across time
The OPTN strategic plan prioritizes increasing the number of transplants and improving transplant recipient outcomes.