United Network for Organ Sharing (UNOS) today announced that CEO Brian Shepard will depart the organization at the end of September, following the completion of his contract. Shepard's 10-year tenure as UNOS CEO was marked by groundbreaking progress in the U.S. organ donation and transplantation system.
Maureen McBride, Ph.D., UNOS' chief operating officer, will assume the role of interim CEO beginning Oct. 1 while UNOS conducts a national search for Shepard's successor. McBride has been with the organization since 1995. She served as director of research until 2014, when she accepted her current role as COO.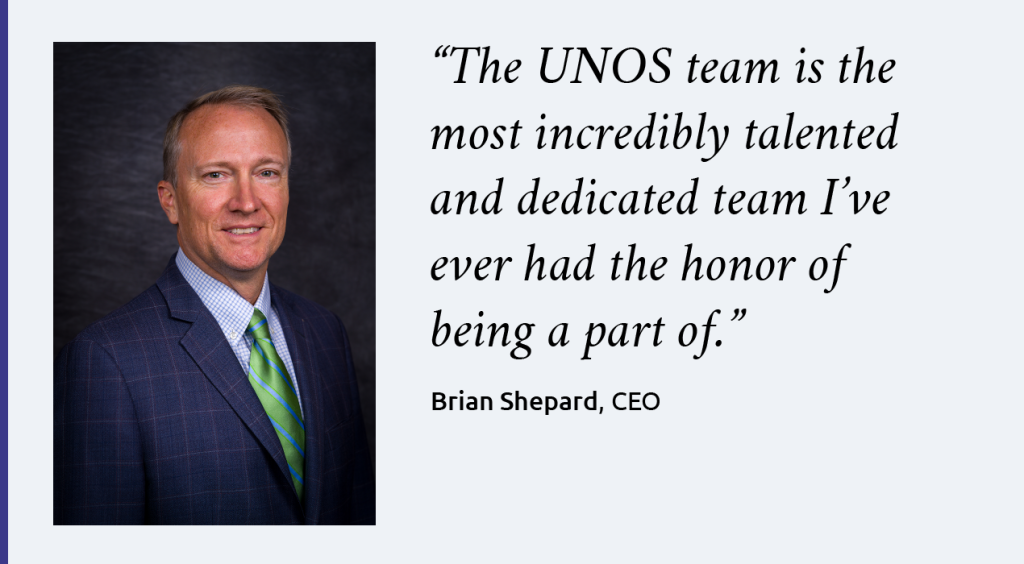 A commitment to improving the system
During his tenure, Shepard presided over the adoption of innovative policies, lifesaving improvements and record increases in both organ donation and transplant, including 2021, when the national system conducted more than 41,000 transplants in a single year, a global record. These and other advancements have positioned UNOS to drive the next phase of system progress, from increasing equity in transplant to adopting cutting-edge technologies, to collaborative improvement, further strengthening the nation's high performing system and saving more lives.
"As UNOS CEO, Brian was a constant and courageous advocate for increasing equity in our national donation and transplantation system," said Jerry McCauley, M.D., vice-president of the UNOS Board of Directors and incoming president. "His leadership has resulted in marked improvements in access to transplant for patients of color and those who have been historically marginalized. I am proud to have worked alongside Brian as a member of the UNOS board and am excited to build upon the foundation he has laid to further advance our mission and save even more lives."
"UNOS is the engine that powers the U.S. donation and transplant system, and we are so lucky to have had Brian Shepard in the driver's seat for the past decade," said Matthew Cooper, M.D., president of the UNOS Board of Directors. "During such a pivotal time in our community, Brian took UNOS to the next level, driving accomplishments and championing the work of so many. His is a legacy to be celebrated."
Prioritizing patients, equity and innovation
Under Shepard's leadership, UNOS undertook a series of efforts to increase equitable access to transplant, including adopting a new way to distribute donor organs that emphasizes patient need. These new polices have resulted in greater access for the sickest patients.
"These changes to organ distribution weren't easy or always popular, and it was so important to have Brian centering these discussions," said David Mulligan, M.D., immediate past president of the UNOS board. "Now that these policies are in place, we can see the positive impact they're having on patients and families across the country."
Additionally, Shepard was instrumental in the development of UNOS Labs, an innovation center dedicated to fostering new ideas and encouraging experimentation. Since its founding, UNOS Labs has developed transplant-focused predictive analytics to help doctors decide whether to accept an organ offer for their patient, a GPS tracker for organ shipments, an offer simulator to conduct behavioral science research to improve organ matching, and a high-quality medical image sharing platform.
"The UNOS team is the most incredibly talented and dedicated team I've ever had the honor of being a part of," said Shepard. "I've always viewed my job as making their job easier; removing obstacles and watching them run. I'm so proud of what they've accomplished and of all of the ongoing efforts that will further improve donation and transplant in the U.S."
A vision for the future of organ allocation
Over the last several years, Shepard has helped put into place a new allocation policy, called continuous distribution. This innovative approach dissolves rigid boundaries, and is structured so that no single attribute determines whether or not a patient receives a transplant. Importantly, continuous distribution is also designed to allow for more patient engagement in the decision-making process.
"As a three-decade heart transplant survivor who strongly advocates increased involvement for transplant patients in the policy development process, continuous distribution is a game changer," said Jim Gleason, president of Transplant Recipients International Organization (TRIO). Gleason has engaged with UNOS for more than 25 years and is a two-term former UNOS Board member. "This effort is not only going to help guide patients to the information they need in their transplant journey, it will also give them an active contributor seat at the decision-making table."
A lasting legacy
"From policymaking to technology, from system-wide improvements to one-on-one interactions, Brian's leadership has left an indelible mark on UNOS and the wider donation and transplant community," said Sue Dunn, former CEO of Donor Alliance and a former UNOS board president. "But for me, to see his ongoing commitment to honoring selfless donors, their courageous families, and recognizing the often-thankless work of our OPOs – that is a legacy be proud of."
"We've come such a long way in the last decade," said Shepard. "While I am honored that the Board asked me to continue to serve as CEO, I felt it was the right time to take the next step. I have worked with so many amazing and dedicated people over the years who made it possible to accomplish all that I originally set out to do as UNOS CEO. Now, as we embark on a new chapter with even more exciting opportunities, I know the UNOS team and the donation and transplant community are in good hands, and I'm excited about the future."
United Network for Organ Sharing (UNOS) is the mission-driven non-profit serving as the nation's transplant system under contract with the federal government. We lead the network of transplant hospitals, organ procurement organizations, and thousands of volunteers who are dedicated to honoring the gifts of life entrusted to us and to making lifesaving transplants possible for patients in need. Working together, we leverage data and advances in science and technology to continuously strengthen the system, increase the number of organs recovered and the number of transplants performed, and ensure patients across the nation have equitable access to transplant.
For media inquiries, contact [email protected] or (804) 782-4730.