INSIGHTS
What has Kidney Allocation System achieved? Mark Aeder, M.D., talks about the system's success
Observations from the former chair of the OPTN Kidney Transplantation Committee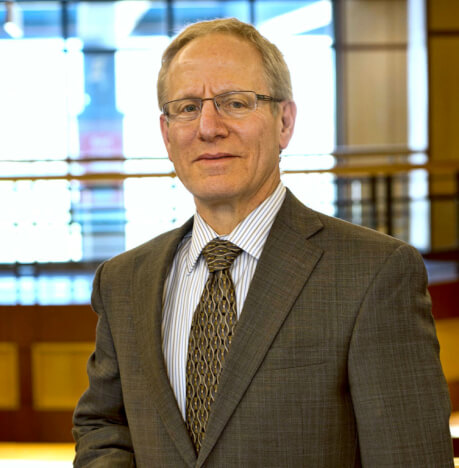 Mark Aeder, M.D., associate professor of surgery at University Hospitals of Cleveland, chaired the Organ Procurement and Transplantation Network Kidney Transplantation Committee from 2015 to 2017 and was deeply involved in the implementation of the Kidney Allocation System (KAS). From initial concept development through implementation, the system that became KAS spanned more than eight years and reflected the cumulative efforts of about 80 volunteer members on the committee.
Aeder recently shared observations about how KAS has performed, roughly four years since its implementation, as well as opportunities for ongoing improvement.
Striving for equity in kidney transplantation
I think KAS has been extremely successful in accomplishing some goals in major areas. Above all, it has led to more equitable utilization of the donated kidneys.
The rate of African Americans getting transplants is almost one-to-one with their representation on the kidney waiting list. That's exactly what we wanted to do. Many African American patients were waiting for more than ten years, and many were highly sensitized. In some cases their wait had to do with access to care, or when they got referred for transplant.
There are a lot of crossovers in the groups that received additional prioritization. A lot of the candidates who had been on dialysis more than 10 years were highly sensitized, and many were African American. Candidates like these check off the three parameters where we've seen the greatest improvement in terms of organ offers and transplants. That's been a tremendous benefit of KAS.
Going forward, we have the bonus of longevity matching, much of which has gone to the pediatric population. That won't show up in one-year graft survival rates; that's going to show up in 15-year graft survival rates.
In terms of organ utilization, there is some movement. What I'm really happy to see is that, even with the greater number of organs recovered, we have not seen an increase in the percentage of kidneys with a KDPI greater than 85 percent not used for transplant. We are recovering expanded donor kidneys more often, so overall we are seeing some increase in the actual numbers utilized.
Delayed graft function continues to be a concern. Lots of different factors affect that, such as the increased utilization of DCD donors, and less pumping of shared kidneys while sharing them over greater distances. But we've learned how to accommodate for the shift. Remember we're putting kidneys more often into recipients with greater challenges, such as those that have been on dialysis a long time and are more highly sensitized.
It takes a while for the system to work out. The early data showed a lot of bolus effects, but I think those have really been mitigated over time. The factors that we haven't been able to mitigate as well are the ones KAS cannot control – geography, program selection criteria, acceptance rates and multiorgan allocation. Two new changes that have been approved, but aren't yet in place, are dual kidney and en bloc kidney allocation. It's hard to say how much that will change the system, but they will create additional opportunities for some candidates.
Now we're also talking about expedited placement. We have a new policy that will shorten the time for acceptance decisions; and we're working to improve placement electronically. As the geographic distribution changes, I think the behavior patterns in terms of how transplant programs look at organ acceptance is going to change. As programs look at their acceptance rates more granularly, and are able to see where that organ was transplanted further down the line, they will to have to start to address how they do patient selection and how they discuss organ acceptance with their patients. They'll have to accommodate what their organ availability is going to be.
Overall, KAS has been very successful in its goals of addressing inequities in organ distribution—to increase access to transplant, fairness and equity.