FDA limits use of Janssen COVID-19 vaccine
The U.S. Food and Drug Administration (FDA) has limited the authorized use of the vaccine to certain individuals 18 years of age or older. Read the key points of this update.
FDA announces tentative committee meeting schedule to discuss COVID-19 vaccines
The FDA has announced their plans to hold virtual meetings to discuss multiple COVID-19 vaccines and emergency use authorization requests. Read the tentative list of upcoming meetings.
NIH updates guidance for second doses of Evusheld
The National Institute of Health's (NIH) COVID-19 Treatment Guidelines Panel has modified their recommendations for the second dose of Evusheld. Read the latest recommendations from NIH.
---
Reminders
FDA approves first COVID-19 treatment for young children
FDA authorizes COVID-19 diagnostic test using breath samples
COVID-19 Summary of Evidence report updated
Help your patients locate Evusheld therapy
The latest data on organ donation and transplant in the U.S.
---
Questions
Patient-friendly information for members to share
Scan this QR code to find COVID-19 resources for patients at TransplantLiving.org including: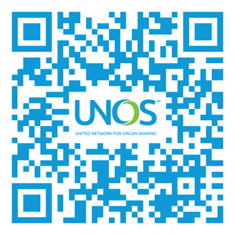 Frequently asked questions
Vaccine and treatment updates
Webinars
Spanish-language resources