As a nonprofit organization, serving the community is at the core of the UNOS mission. In keeping with this commitment, UNOS hosts several events each year. UNOS also participates in events, exhibits and presentations in our hometown and across the country. View our calendar of events >
United for UNOS Annual Soirée
United for UNOS Annual Soirée is Richmond's premier fall event and is uniquely held where our lifesaving mission is centered – UNOS headquarters. Satisfy your appetite for food and philanthropy and organ transplant recipients, living donors, donor families and transplant professionals. Event proceeds support United Network for Organ Sharing's lifesaving work.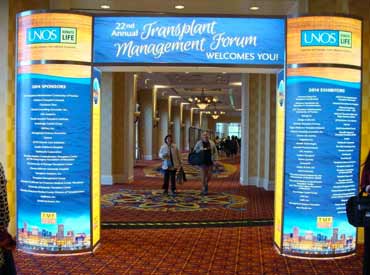 Transplant Management Forum
Transplant administrators from across the country attend the UNOS Transplant Management Forum year after year for its educational sessions and networking opportunities. And while many of the sessions are geared to transplant administrators, it's also an excellent opportunity for transplant professionals like clinical and financial coordinators, social workers, and physicians and surgeons to enhance their understanding of how a program operates.
National Tree of Life Celebration
The Donate Life Partnership of Virginia, which includes United Network for Organ Sharing, Old Dominion Eye Foundation, LifeNet Health, Inc., and Donate Life America, sponsors an annual lighting of the Tree of Life at UNOS Headquarters in Richmond, Virginia.
The ceremony is an opportunity to commemorate the kindness and generosity shown by families who have made the decision to donate a loved one's organ, tissues or eyes and to offer solace for those families who often experience a greater sense of loss during the holidays. Families are encouraged to bring or mail an ornament in memory of their loved ones. The program provides an opportunity for families to hang their ornament on the tree and to hear empowering testimony from families who have made similar decisions during the last year. Those donors,as well as others who have contributed in the past, are also recognized during this program.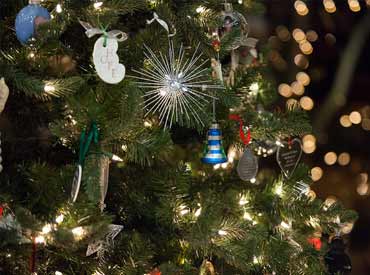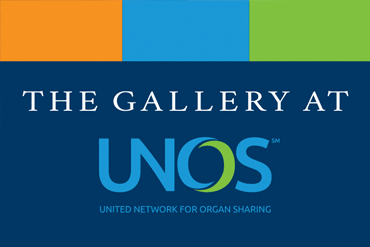 The Gallery at UNOS
Dedicated to increasing awareness of lifesaving organ transplants and organ donation, The Gallery at UNOS regularly features artwork by local artists and those directly touched by donation and transplantation. As guests are inspired by this artwork, they are also inspired by UNOS' mission to save lives through increased organ donation and transplantation.