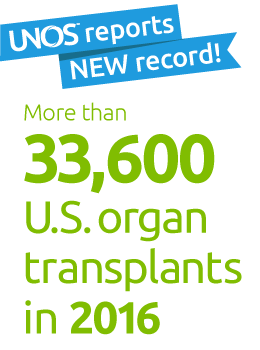 Organ transplants performed in the United States in 2016 reached a new record high for the fourth consecutive year, according to preliminary data from United Network for Organ Sharing (UNOS). UNOS serves as the national Organ Procurement and Transplantation Network (OPTN) under federal contract. For the year, 33,606 transplants were reported, representing an 8.5 percent increase over the 2015 total and an increase of 19.8 percent since 2012.
"Thousands more men, women and children are receiving a life-saving transplant opportunity each year," said Stuart Sweet, M.D., Ph.D., President of the OPTN/UNOS Board of Directors. "We are deeply grateful to all who have chosen to help others through the life-saving act of organ donation. We are also very conscious that many more people are still anxiously awaiting a transplant, so we must continue to work with our partners in the donation and transplant community to meet the needs of those who continue to wait."
The growth in overall transplants was largely driven by an increase of 9.2 percent in the number of deceased donors from 2015 to 2016, continuing a six-year trend of annual increases. Many deceased donors provide multiple organs for transplantation. Approximately 82 percent (27,628) of the transplants involved organs from deceased donors. The remaining 18 percent (5,978) were performed with organs from living donors.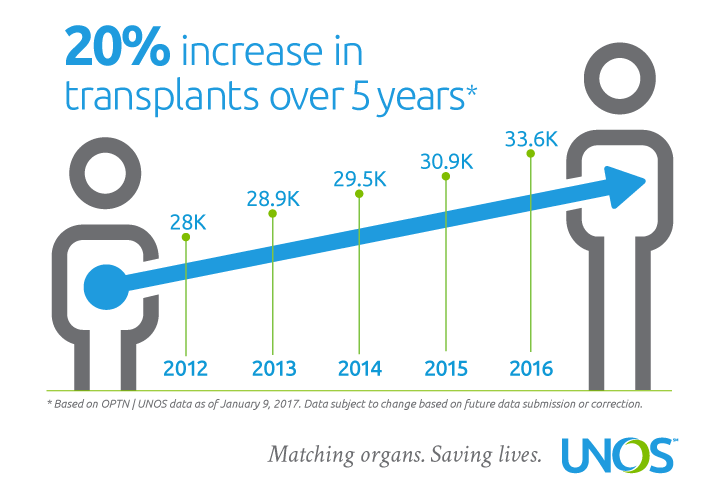 "This increase in organ transplants is partly a realization of an ongoing commitment to improvement at organ procurement organizations, transplant hospitals, and UNOS," said Brian Shepard, UNOS' Chief Executive Officer. "Organ transplantation has long been at the forefront of data-driven quality improvement, and OPOs and UNOS are working together on a technology-driven transformation in the way organ donors are identified and recovered." (See UNOS' recent public service announcement to promote transplant awareness.)
In addition, an increasing number of deceased donors in 2016 had medical characteristics or a medical history that, in prior years, may have been considered less often by clinicians. These include people who donated after circulatory death as opposed to brain death, as well as donors who died of drug intoxication or those identified as having some increased risk for bloodborne disease.
"While donation and transplant professionals always use their best medical judgment in evaluating donors and organ offers, over the last several years we've had success using organs from donors with certain criteria we may not have accepted in the past," said David Klassen, M.D., UNOS' Chief Medical Officer. "Among our key goals as the OPTN, working with our members nationwide, is to ensure that as many organs as possible are accepted and used for the patients who will benefit from them the most, while maintaining high levels of patient safety." (See OPO leaders describe effective practices to increase the number of organs donated.)
United Network for Organ Sharing (UNOS) serves as the Organ Procurement and Transplantation Network (OPTN) by contract with the U.S. Department of Health and Human Services, Health Resources and Services Administration, Division of Transplantation. The OPTN brings together medical professionals, transplant recipients and donor families to develop national organ transplantation policy.