For continuity of care and the safety of transplant patients and living donors, it's vital that all transplant programs and histocompatibility labs have key personnel that meet the training and experience criteria outlined in the OPTN Bylaws. That said, not all members are familiar with the process of reporting changes to key personnel. It can be particularly challenging if a key staff member departure is unexpected or happens very short-term.
You may find the flowchart below a useful reference for the process.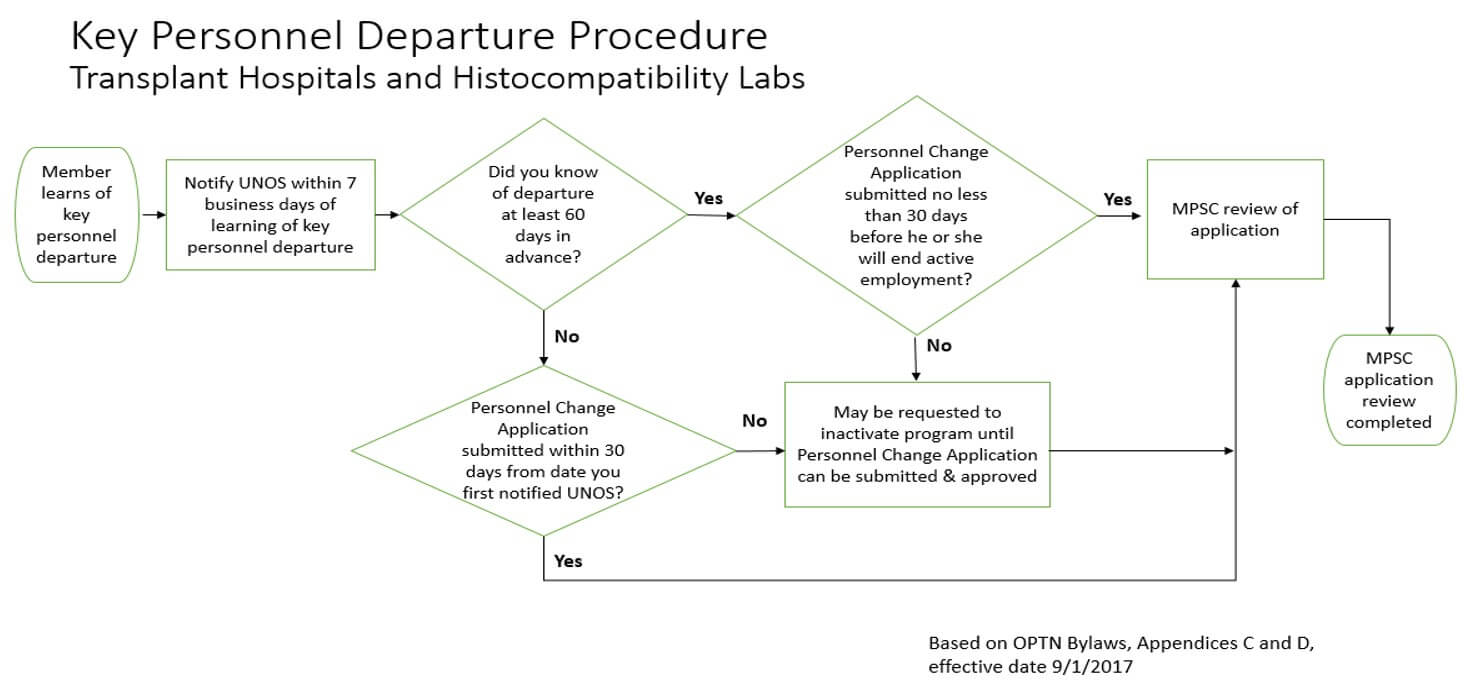 In addition, here are key things to remember:
Report any key personnel departure within seven days of learning of the departure (whether planned or unplanned). This allows UNOS staff to provide you the required applications as soon as possible, and it may help prevent your needing to inactivate because of vacant key personnel positions.
If you have someone else already on staff you propose as a replacement, be familiar with the key staff requirements. Requirements are outlined in the OPTN Bylaws, with a specific appendix for histo labs (Appendix C) and for each transplant program type (Appendices E through J).
If you don't have an immediate replacement, you may need to inactivate the transplant program(s) affected (except for VCA programs). The inactivation requirements and actions are listed in Appendix K of the OPTN Bylaws.
The OPTN/UNOS Membership and Professional Standards Committee (MPSC) routinely reviews all instances of key personnel changes. By understanding the requirements and following the processes outlined, your program would not need to undergo additional MPSC review and potential action for non-compliance.
UNOS staff are happy to help answer questions or clarify information you need to complete the process. Call UNOS at 804-782-4800 and ask for a membership analyst to assist you.