UNOS commemorates Margo Akerman for her tireless commitment to advocate for transplant candidates and recipients and to educate the public about the need for and benefits of transplantation.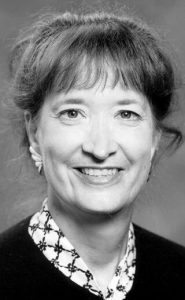 Following years of work as a writer and editor (including service in the U.S. Navy), a university educator, and a proprietor of a bed and breakfast inn, Ms. Akerman's life was changed by the effects of polycystic kidney disease. She received two kidney transplants, the first of which functioned for 10 years and the second of which functioned 22 more years.
She worked with the Knoxville, Tenn., affiliate of Kids on the Block, a community service group that presents educational puppet shows to schools and youth groups about disability and diversity. Through her character, she talked about kidney failure and transplantation in an entertaining and kid-friendly way.
She volunteered in many capacities with UNOS and the OPTN over a period of 15 years. In 1999, she was elected to serve as Vice President of Patient and Donor Affairs on the OPTN and UNOS Board of Directors. In that role as a board officer, she was the primary representative for the perspectives of people who have personal experience with organ donation and/or transplantation. She served additional terms on the board as well as on the OPTN Executive, Patient Affairs and Kidney Transplantation Committees and the Council for Organ Availability. She also contributed to the design and launch of the National Donor Memorial at UNOS.
Throughout her volunteer experience, Ms. Akerman balanced her advocacy for the role of patients in transplant policy-making with a sense of optimism and confidence in improving transplant care. In particular, she helped shape the development of kidney allocation policy with the goal of keeping transplant candidates hopeful of their chance to receive a transplant. She also served as an inspiration for many other transplant recipients and donor family members to become involved in board and committee service.
Additional information about her life and achievements is available in an online tribute.