UNOS honors the leadership and service of Jeremiah Turcotte, M.D., who passed away Feb. 12.
Dr. Turcotte spent his entire career at the University of Michigan Medical Center. He chaired the university's department of surgery for more than a decade and trained countless clinicians who continue in practice today.
He made many contributions to the science and the professional discipline of transplantation. He was part of surgical teams that performed both the first kidney transplant and the first liver transplant in the state of Michigan. He and colleague C. Gardner Child, M.D., developed a scoring system to assess the severity of liver disease that was used for several years in OPTN liver allocation policy. He was a founding member and president of the Transplantation Society of Michigan as well as a founding member and president of the American Society of Transplant Surgeons.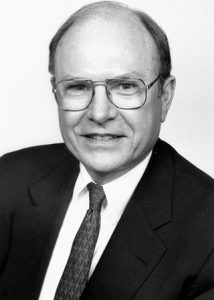 He served in more than 20 positions of volunteer leadership with UNOS and the OPTN over the span of 13 years. He was the first chair of the Ethics Committee, later chairing the Liver and Intestinal Organ Transplantation and the Membership and Professional Standards Committee. He was president of the Board of Directors from 2001 to 2002.
In an interview with the American Society of Transplant Surgeons, Dr. Turcotte characteristically emphasized not his own contributions but those of the transplant community of which he was a part. He was especially proud of the role the University of Michigan played in training transplant surgeons, which became a model for many other academic medical programs. He also reflected fondly on his role in developing the ethical framework for organ transplantation, particularly the emphasis on balancing medical utility and justice factors.
A true pioneer in many aspects of organ donation and transplantation, his legacy lives on.