---
More than 100 invited guests were in attendance on November 16 to mark the 20th anniversary of the National Donor Memorial at UNOS headquarters in Richmond, VA.
Donor mother and wife Donnetta Quarles-Reese and First Lady of Virginia Suzanne S. Youngkin were the honored speakers for the ceremony, with opening remarks from UNOS CEO Maureen McBride, Ph.D., who began by recognizing the volunteer committee of donor family members, living donors and transplant recipients from all across the country who created the emotionally powerful design for the National Donor Memorial.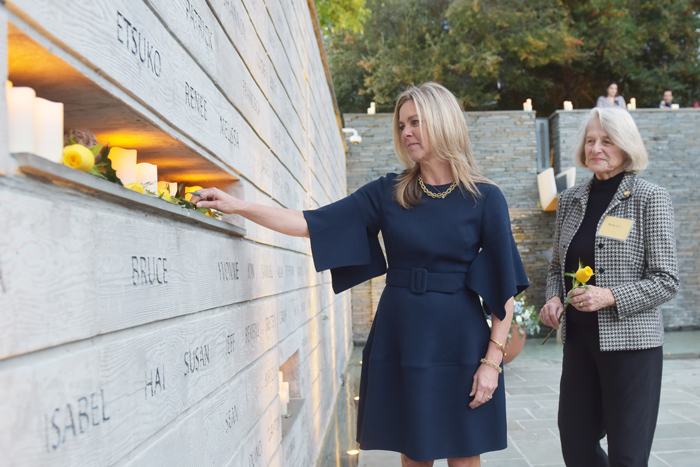 ---
"It was this group's leadership, and their combined sorrow and celebration that led to this memorial; a physical representation of lives lost and lives lived; of legacies secured and families made whole," McBride said.
The memorial, "inspires us to reflect on what it means to be an organ, eye or tissue donor," said McBride. "It's difficult to capture in words the incalculable nature of such a gift," she added, "but I do know that as long as we keep that generous donor in mind, and as long as we remember the expanding ripple effect of their single, life-altering decision, we will never lose sight of our mission. The people whose names are etched on that memorial wall and the thousands more who live on in our memories deserve nothing less."
McBride then introduced First Lady Youngkin, who noted that she has long been a registered donor and urges others to make that same commitment. She recalled that she and her husband had an opportunity to learn more about the lifesaving gift of donation through a former colleague of her husband's who was a living donor. And she spoke of the power of the memorial's Wall of Names and the "rich tapestry" of lives represented and honored there.
Following Youngkin, Quarles-Reese spoke on behalf of every donor family when she recalled the devastating pain she and husband Mike experienced at the sudden loss of their 13-year-old daughter Dani, their only child, in 2007. "When Dani died," she said, "we thought our life was over."
But in the midst of that pain, she said, "Mike and I found a way to allow her death to have purpose by donation."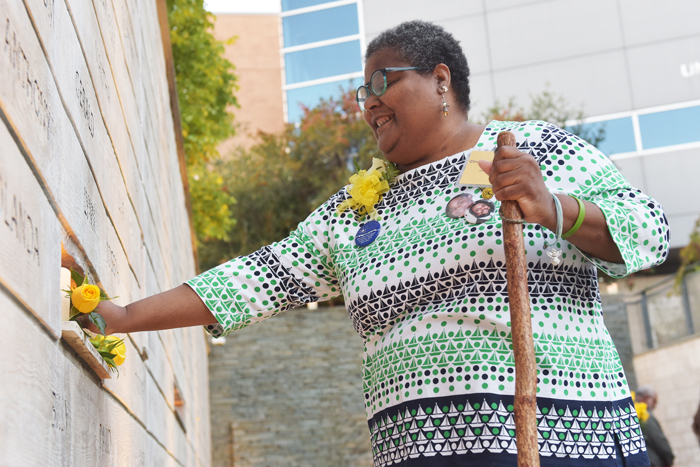 ---
A decade later, Quarles-Reese suffered that profound grief once again when she lost her husband. And once again, she found solace through honoring his wish to become a donor as well. In her remarks, she spoke of the donor family's emotional journey, and of how pain and anger are tempered through the gift of donation. "I realized their death could bring hope and healing to someone else's family," she said.
In reflecting that emotional journey, the National Donor Memorial also serves as a place of hope and healing, Quarles-Reese said. "When I visit the memorial and read all the names, I know that I am not alone on this journey," she said. "I feel so comforted."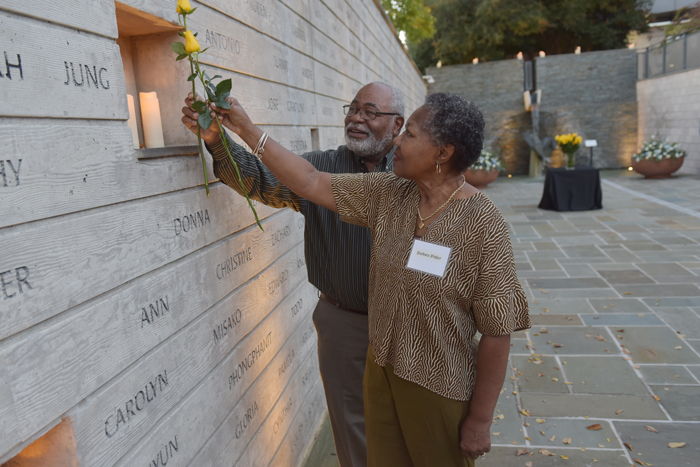 ---
"This hallowed ground"
Other guests in attendance at the event echoed Quarles-Reese's words as they spoke of what the memorial means for them. Peggy Schaeffer, whose son Timmy was a donor, was a member of the original committee responsible for designing the memorial. Visiting here "is a little bit like coming home," she said. "It's such a beautiful, peaceful, serene place."
Donor mother Katrina Armstead said it's a space that allows her to feel close to her son, Joseph. "It's a wonderful place to have for families," she said. "Your donor saved someone else's life, and they are celebrated here."
Heart transplant recipient Dr. Brittany Clayborne, who was recently honored with the 2023 Lisa Schaffner Community Advocate Award, said she feels closest to her donor in the memorial, and that the power of the space is that it holds the complex "duality" of emotions—loss and hope, sadness and joy—embodied in donation and transplant. For any visitor, she said, "Standing in this hallowed ground is so incredibly amazing."
About the National Donor Memorial
The 10,000-square-foot National Donor Memorial, supported entirely by private contributions, was dedicated on November 20, 2003. Open to visitors 24 hours a day, 365 days a year, it is laid out as three metaphorical "rooms," symbolizing the emotional process of donation and transplant: the Wall of Tears and Water Garden represent hope, the Butterfly Lawn represents renewal, and the Memorial Grove represents transformation. On the Butterfly Lawn, the Fallen Soldier Donor Memorial offers a tribute to service members who have made organ, eye and tissue donation their last selfless act. For 20 years, the memorial has welcomed thousands of visitors who come to honor, to remember, and to give thanks for the gift of life.
See WTVR-6 feature on the National Donor Memorial anniversary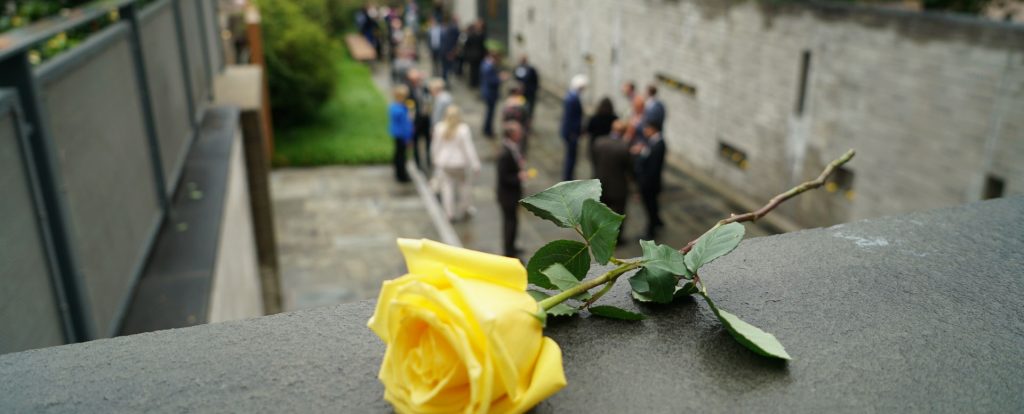 Learn more

Make a gift to the National Donor Memorial Revitalization Fund
20 years after its inauguration, the National Donor Memorial has sustained damage from general aging, detrimental weathering, and structurally invasive landscape elements. UNOS has launched the National Donor Memorial Revitalization Fund to renew our nation's memorial garden for organ, eye and tissue donors.
Please help us reach our fundraising goal of $150,000 by making a tax-deductible gift to the fund today. With your support, you are helping to ensure the National Donor Memorial remains a safe, publicly accessible, and peaceful sanctuary for donor families and friends, grateful patients, and public visitors to honor America's selfless donor heroes.