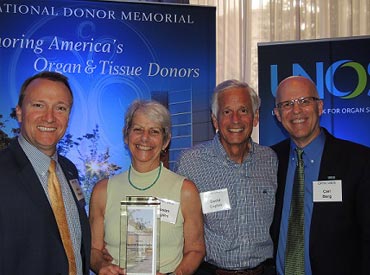 RICHMOND, Va.—United Network for Organ Sharing (UNOS) presented David and Susan Caples the 2015 National Donor Memorial Award for Excellence in recognition of their untiring efforts as donation advocates.  The award was presented at an evening reception June 1 during UNOS' board meeting in Atlanta.
When the Caples lost their 17-year-old daughter, Katie, in a tragic car accident in 1998, they were inspired by their daughter's wishes to donate her organs, a decision that saved the lives of five recipients aged 9 to 62. Later that year, to honor her memory and educate other young people about the importance of donation, the Caples founded the Katie Caples Foundation, which is the sponsoring organization for their awareness, education and fund-raising activities.
Their educational efforts have perhaps had the most far-reaching effect. Every year, two educators deliver more than 125 programs to Northeast Florida high schools and community centers. At the program, attendees learn about Katie and how they, too, can make a difference through organ donation by registering to be a donor.
Since the program began, more than 100,000 high-school students have heard the message, and the results are impressive, with the number of people registering to be a donor in Northeast Florida exceeding the national average by more than 20 percent. In fact, from 2006 through 2014, the rate of first-time drivers registering to be a donor increased by 337 percent.
To help fund those outstanding efforts and others, the Caples founded the "Katie Ride for Life." Held each year in April (National Donate Life Month) in Fernandina Beach, Fla., the event features cycling (and walking) routes of varying lengths, drawing more than 1,200 participants from across the country as well as Mexico and Italy.
"Katie was an honors student, an active volunteer and a gifted athlete, who helped her high school capture the state cross-country title," said UNOS president Carl I. Berg, M.D. "The 'Ride for Life' is a fitting tribute to her vital spirit."
UNOS established the National Donor Memorial Award for Excellence in 2010 to recognize exceptional advocates for organ and tissue donation.  We gratefully acknowledge Alexion for supporting this year's award. UNOS solicits nominations for the award from the organ procurement organizations and transplant centers in the United States. The Caples were nominated by the Mayo Clinic in Jacksonville, a lead sponsor of the Katie Caples Ride for Life.
##
UNOS, a private, nonprofit organization, unites and supports the organ donation and transplantation community nationwide through organ placement, research, technology, policy development and education. UNOS serves as the nation's Organ Procurement and Transplantation Network (OPTN) under federal contract. As the OPTN, it matches lifesaving organs with people awaiting transplants nationwide. Also, it manages the national database of medical information about transplant candidates, recipients and donors.
UNOS has been headquartered in the Richmond area since its founding in 1984. Its 330 employees work in two office buildings within the Virginia Biotechnology Research Park. UNOS is also home to the National Donor Memorial, which honors the life-giving impact of organ and tissue donation. c