COVID-19 Summary of Evidence report updated
The COVID-19 Summary of Evidence report has been updated with information to reflect that the Omicron subvariant BA.2 is prevalent and that long-term outcomes for recipients include the possibility of thrombotic events.
Compiled by the OPTN Ad Hoc Disease Transmission Advisory Committee (DTAC), the document includes the latest information known for minimizing the risk of donor-derived COVID-19 transmission while maximizing donor utilization.
The committee developed the summary in collaboration with colleagues representing AST, ASTS, AOPO, HRSA and the CDC. DTAC is reviewing the document on a quarterly basis.
FDA approves first COVID-19 treatment for young children
The U.S. Food and Drug Administration (FDA) has expanded the approval of Veklury (remdesivir) to include pediatric patients 28 days of age or older who weigh at least 3 kilograms and who are hospitalized or at high risk for progression to severe COVID-19. Read the full release.
FDA authorizes COVID-19 diagnostic test using breath samples
The new test detects chemicals compounds in breath samples associated with a SARS-CoV-2 infection. Read the full release from the FDA.
---
Reminders
Distribution of sotrovimab paused nationwide
Help your patients locate Evusheld therapy
The latest data on organ donation and transplant in the U.S.
---
Questions
Patient-friendly information for members to share
Scan this QR code to find COVID-19 resources for patients at TransplantLiving.org including: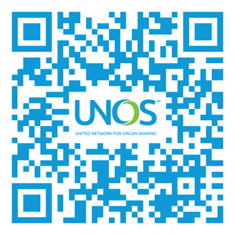 Frequently asked questions
Vaccine and treatment updates
Webinars
Spanish language resources