Support UNOS today. When you give to UNOS, you join our mission
to save lives and bring hope to patients waiting for organ transplants.
Your gift makes a difference
Your tax-deductible gift will help UNOS in its ongoing mission to:
maximize the number of individuals who benefit from organ transplants
reduce waiting times and waiting list fatalities
improve transplant outcomes and enhance quality of life among recipients
provide impartial data and resources to patients and their families
support outcomes-based clinical practice and research
increase organ donation through education and awareness
To see more about the impact your contributions have on our work, read our Annual Report.
We are accountable to you

UNOS is committed to ongoing transparency and accountability in support of our mission, and is verified by several charity evaluators, including Guidestar, the premier source of information on U.S. nonprofit organizations.
UNOS is a tax exempt organization under section 501(c)(3) of the Internal Revenue Code. View recent financial audits >
You're in good company
UNOS is powered by a community of generous sponsors and dedicated volunteers working together to increase transplants and make the most of every precious organ. View our community partners >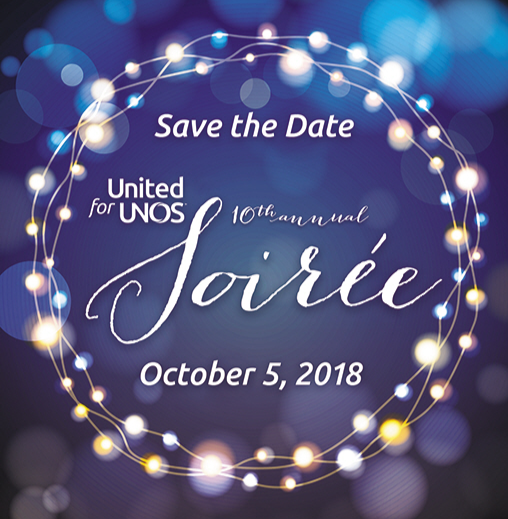 United for UNOS Annual Soiree
United for UNOS Annual Soirée is Richmond's premier fall event and is uniquely held where our lifesaving mission is centered – UNOS headquarters. Satisfy your appetite for food and philanthropy and meet our Stories of Transplantation including transplant recipients, living donors, donor families and transplant professionals. Event proceeds support United Network for Organ Sharing's lifesaving work.