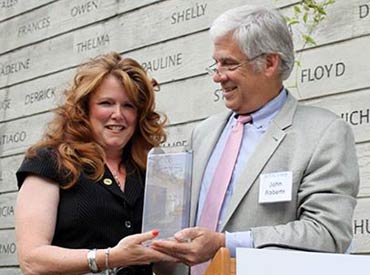 Patty Jo Herndon of Chelsea, Mich., has received the 2013 National Donor Memorial Award for Excellence for her volunteer efforts to promote organ, eye and tissue donation since 1997.  The Award for Excellence was presented during the June board meeting of United Network for Organ Sharing (UNOS) in Richmond, Va., where UNOS is headquartered.
"Mrs. Herndon serves as an inspiration to all of us who work in donation and transplantation.  But more important, she is saving lives by positively influencing those she speaks to and encouraging them to 'say yes' to organ donation," commented John Roberts, M.D., president of the board.
In 1997, Mrs. Herndon's sister, Ellen Sullivan, suffered a brain aneurysm and became an organ and tissue donor, leaving behind four young children whom Mrs. Herndon and her husband, Walt, raised, along with their own five children.  Since that time, Mrs. Herndon has been an active advocate for organ, eye and tissue donation, sharing her sister's story at heath fairs, community events and other venues.  She is the president of the Michigan Donor Family Council, a non-profit she helped to create, and she also serves on the boards of the Michigan Eye-Bank and the Gift of Life Foundation.
"Donating my sister's organs has helped my entire family and that includes all of my siblings, our children and grandchildren because this is an everyday conversation for us," Mrs. Herndon has commented.  "We miss my sister every minute of every day, but we also realize other people are alive today because of her unselfishness and generosity."
The National Donor Memorial Award for Excellence was established in 2010 to recognize exceptional advocates for organ and tissue donation.  Mrs. Herndon was nominated for the award by the organ procurement organization Gift of Life Michigan.  Nominations for the award are sought from the 58 organ procurement organizations in the United States, and this year, 26 nominations were submitted.
UNOS is a private, non-profit organization linking all members of the organ procurement, transplantation and histocompatibility communities.  It administers the national Organ Procurement and Transplantation Network under contract with the Health Resources and Services Administration, a division of the U.S. Department of Health and Human Services.  The National Donor Memorial, supported entirely by private and charitable contributions, honors organ and tissue donors and their families who have saved and enhanced the lives of others through their generous gifts.