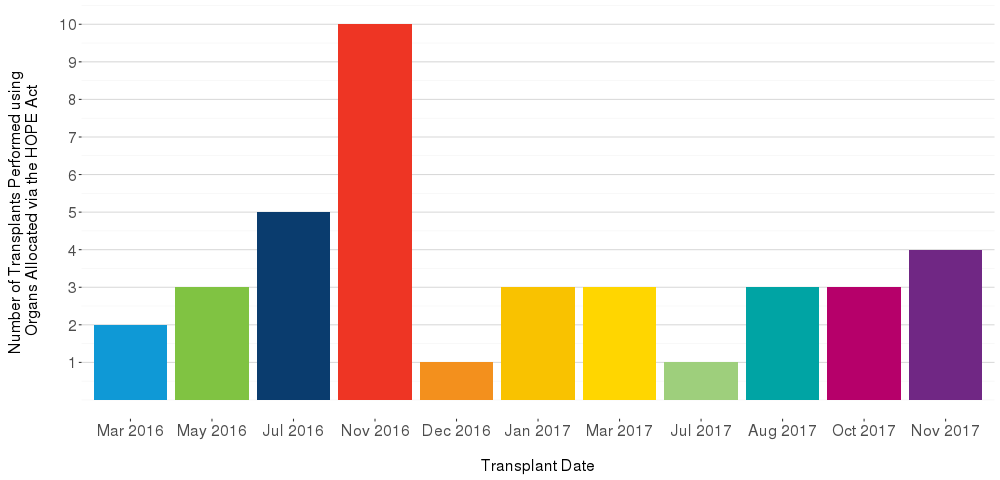 UNOS researchers continue to track the impact of the HIV Organ Policy Equity Act (also known as the HOPE Act). Implemented in November 2015, the act allows research on transplantation of organs from donors identified as HIV-positive into HIV-positive candidates.
As of November 10, 2017, six IRB-approved transplant programs had performed 38 kidney and/or liver transplants under the HOPE Act, using organs from 16 deceased donors identified as HIV-positive. The chart lists the volume of transplants performed per month, omitting months where none were performed.
While initial transplant volume under the HOPE Act protocols has been lower than anticipated, such transplants provide additional opportunities for organ utilization and access to transplantation. They also may increase in the future as additional data becomes available on the safety and efficacy of transplantation from HIV-positive donors.
For more information, see the study UNOS researchers presented at the 2017 American Transplant Congress:
Wilk, Amber; Taranto, Sarah; Urban, Read; Klassen, David; "HOPE Act – The First Year," American Transplant Congress, Chicago, 2017