Living kidney donor Jon Lee honored for his work promoting organ donation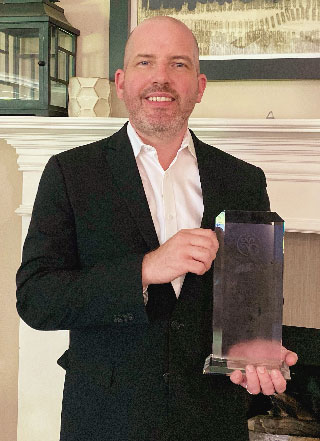 "It's not often that you get to take a part of yourself, physically, and give it to somebody else so that they may live a more abundant life," says Lee. In April of 2019, Lee stepped forward as a kidney donor for his brother-in-law, Jason Smith. After much prayer and introspection, he felt called to give.
"During Jason's struggle, I was also struggling with this thought that I could be his donor," Lee recalls. "I have one more kidney than I need to live a long, healthy life." With his brother-in-law's health declining, Jon took the first steps toward being a lifesaving donor. He was evaluated, but received the news that he was not a donor match for Jason. Though this news was disappointing, there was still hope for Jon and Jason.
Finding hope through kidney paired donation
Through Medical City Healthcare's transplant program, the pair were given a second chance at success through a kidney paired donation, or KPD, program. Patient Jill Kolb was also in need of a kidney transplant, and her donor Sara Holloway had learned she was not a match for Jill. Through KPD, Sara was able to donate her kidney to Jason, while Jon donated his kidney to Jill. Learn more about kidney paired donation.
A pledge to continue serving others
During his recovery, Jon felt a spiritual calling to share a message about organ donation with others. "I just felt like God was telling me, 'Why not just start an organization?'" With this mission in mind, Jon created usforthem.org to promote living kidney donation among people of faith.
Us for Them aims to eliminate the kidney transplant waitlist by inspiring others to prayerfully consider living kidney donation. The website and Facebook page provide information, data and stories of living kidney donation to inspire others to become living donors.
Jon Lee exemplifies generosity and advocacy, and the impact of his work in the kidney transplant community continues to grow. He was nominated for the National Donor Memorial Award for Excellence by Medical City Dallas in honor of his tireless work. Jon is the first living donor to ever receive the award. Learn more about living donation.
United Network for Organ Sharing (UNOS) is the mission-driven nonprofit serving as the nation's transplant system under contract with the federal government. We lead the network of transplant hospitals, organ procurement organizations, and thousands of volunteers who are dedicated to honoring the gifts of life entrusted to us and to making lifesaving transplants possible for patients in need. Working together, we leverage data and advances in science and technology to continuously strengthen the system, increase the number of organs recovered and the number of transplants performed, and ensure patients across the nation have equitable access to transplant.
UNOS has been headquartered in the Richmond area since its founding in 1984. UNOS is also home to the National Donor Memorial, which honors the life-giving impact of organ and tissue donation.