---
Lisa Schaffner honored posthumously with award named in her honor
Lisa Schaffner helped establish the National Donor Memorial Award for Excellence. Now, the same award has been renamed to honor its very first champion.
The Lisa Schaffner Community Advocate Award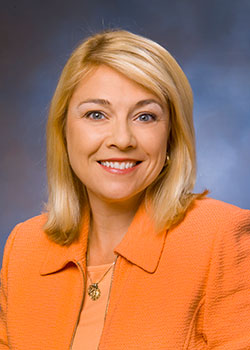 "She tackled it with the same amount of energy, passion and dedication that she brought to everything she did," UNOS CEO Brian Shepard said.
The program she spearheaded honored unsung heroes who went above and beyond promoting organ donation in their community.
"She understood the importance of making connections with people," said UNOS Board President Matthew Cooper, M.D. "Meeting them where they were, hearing their stories, and amplifying their voices."
Following Schaffner's sudden passing in 2021, the UNOS family she continued to inspire were eager to honor her legacy.
"As we began to plan this year's ceremony," Shepard said, "we realized we can best honor Lisa, and indeed our community, by following her timeless example."
The decision was soon made to rename the existing honor as the Lisa Schaffner Community Advocate Award, recognizing both her efforts on behalf of the donation and transplant community as well as her enduring legacy as an advocate, a cheerleader, and a friend.
It only made sense that Schaffner herself should also be this year's recipient.
Honoring a friend, celebrating an advocate
At a dedication ceremony held at UNOS, Schaffner's husband and children accepted the award on her behalf.
She embodied all that this award represents," Shepard said in his remarks. "An unyielding commitment to donation and transplant; a willingness to fight hard and to love even harder; and an abiding, unshakable belief that we are called to save lives together."
---
Lisa Schaffner was an irreplaceable member of the UNOS team, serving as the director of public relations and marketing for nearly fifteen years. She also served her community as a journalist and as a proud Richmonder. Learn more about Schaffner's life and impact in this remembrance from UNOS CEO Brian Shepard.