Matching organs. Saving lives.
Our mission is to advance organ availability and transplantation to support patients through education, technology and policy development.
How organ matching works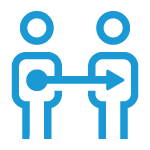 When a patient is "added to the list," a transplant hospital adds a patient's medical information into UNOS' computer system. When a deceased organ donor is identified, UNOS' computer system generates a ranked list of transplant candidates, or "matches", based on blood type, tissue type, medical urgency, waiting time, expected benefit, geography and other medical criteria.
Facts
You can be a donor at any age.
Celebrity or financial status are not factors in getting a transplant.
Donation is possible with many medical conditions.
All major religions approve of organ and tissue donation.
A national computer system and strict standards are in place to ensure ethical and fair distribution of organs.
A healthy person can become a living donor by donating a kidney, or a part of the liver, lung, intestine, blood or bone marrow.
Learn more organ donation facts.
Submit your nomination by email beginning Feb. 1.
Total transplants since 1988 exceed 750,000; living donor transplants highest in 13 years.
UNOS, which serves as the Organ Procurement and Transplantation Network (OPTN) under federal contract, continues to provide all services without interruption despite the shutdown of some federal government functions that began December 22, 2018. All UNetSM...