Selfless deceased donors make 12-year record-setting trend possible
The gifts of generous donors and their courageous families made lifesaving records possible in 2022. This is according to United Network for Organ Sharing (UNOS), the engine that powers the national organ donation and transplantation system under contract with the federal government.
---
Generous organ donors made 2022 a year of lifesaving milestones.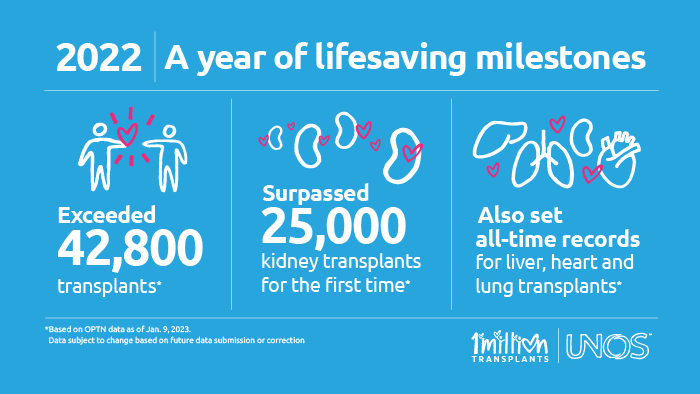 In addition to surpassing 1 million transplants for the first time in our nation's history, 42,887 organ transplants were performed in 2022, an increase over 2021 and a new annual record.
More than 14,000 individuals became deceased organ donors in 2022. Their lifesaving gifts made more than 36,400 deceased donor transplants possible for patients in need and made 2022 the twelfth consecutive record year for deceased donation. A total of 6,466 people became living organ donors in 2022.
Additionally, more than 25,000 kidney transplants were performed in 2022, the most ever in a single year. Annual records were also set for liver, heart, and lung transplants.
"In a year when we commemorated one million transplants performed nationwide, we are glad to mark accelerated progress toward the next million," said Jerry McCauley, M.D., M.P.H., president of the UNOS Board of Directors. "We thank all the living and deceased organ donors, as well as the loved ones of deceased donors, who have provided a lifesaving gift. We also honor all the clinicians and professionals involved in organ donation and transplantation, who work tirelessly to make as many transplants happen as possible every day."
"We also should rededicate ourselves to meeting the continuing need," added Dr. McCauley. "Many people still wait anxiously for a life-giving transplant. We must continue to improve in our capabilities to give them this vital opportunity."
For additional data, more about organ donation and transplantation and how to register to be an organ donor, visit unos.org.