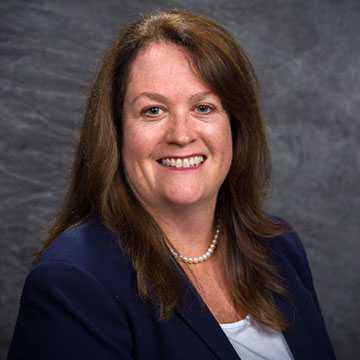 Chief Operations Officer
As Chief Operations Officer, Maureen McBride oversees the organizational areas of Policy and Community Relations, Member Quality, Organizational Excellence and the Organ Center. She also provides oversight to projects and deliverables related to UNOS' contract to serve as the Organ Procurement and Transplantation Network (OPTN).
Prior to serving as Chief Operations Officer, McBride served as Chief Contract Operations Officer from 2014 to 2021. Serving as Director of Research from 2006 to 2014, she provided expertise in research, analysis, and performance measurement conducted by the UNOS staff using the national OPTN database and internal corporate data systems. She also provided advice and expertise to staff in regards to research studies undertaken in collaboration with transplantation professionals across the country and assisted UNOS staff with the development of research proposals and projects, grant proposals, and research publications.
McBride joined UNOS in 1995 as a senior biostatistician and served as a senior biostatistician/team leader for the UNOS Research Department. She has contributed to studies in more than 50 manuscripts and publications.
McBride received her bachelor's of science in mathematics from Loyola College in Maryland and a Ph.D. in biostatistics from Virginia Commonwealth University, Medical College of Virginia.