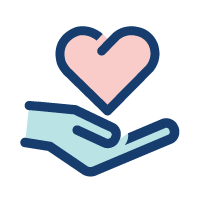 There were nearly 11,900 deceased donors in 2019.
9th consecutive record breaking year
Frequently asked questions
What is the waitlist?
The "waitlist" is a list of candidates registered to receive organ transplants. When a donor organ becomes available, the matching system dynamically generates a new, more specific list of potential recipients based on the criteria defined in that organ's allocation policy (e.g., organ type, geographic local and regional area, genetic compatibility measures, details about the condition of the organ, the candidate's disease severity, time spent waiting, etc.).
Learn more facts about the waitlist and what to expect when waiting for a transplant.
How do I get on the national transplant waitlist?
For most patients who need a transplant, the first step is to get on the national transplant waiting list. Most transplant candidates usually wait for some length of time because there are not enough donor organs for all who need them. To get on the national waiting list:
Your physician must give you a referral.
Contact a transplant hospital. Learn as much as possible about the 200+ transplant hospitals in the United States and choose one based on your needs, including insurance, location, finances and support group availability.
Schedule an appointment for an evaluation and find out if you are a good candidate for transplant.
During the evaluation, ask questions to learn as much as possible about that hospital and its transplant team.
If the hospital's transplant team determines that you are a good transplant candidate, they will add you to the national waiting list. UNOS will not notify you when you have been added to the list. Your transplant hospital will notify you within 10 days to inform you about your date of listing.
How can I be considered for a transplant?
A transplant program must evaluate anyone who may wish to have a transplant, and it would make the final decision about whether to accept that person as a candidate. You are not automatically listed for a transplant just because you've had some contact with a transplant program.
Each transplant program makes its own decision about whether to accept someone for a transplant. The transplant team at each program has its own standards for accepting candidates. Each team may view the same facts and information different ways and make different decisions about listing a person for a transplant. So if one program is not willing to accept you as a candidate, a different program may accept you.
Where am I on the waitlist?
Many people often think that the national organ transplant waiting list is a static list, like a grocery store checkout line. However, the waitlist is a dynamic, ever-changing list. A recipient's position on that list is dependent on a number of variables tied to the characteristics of the available organ recovered. We run these donor and organ characteristics against the list of patients waiting for a transplant who match key factors for that specific organ. Since there is a shortage of organs suitable for donation as compared to the amount of those waiting for a transplant, at UNOS we generate a new list for every available organ in order to make the best match for a successful transplant. 
You will want to stay in close communication with your transplant center on your transplant status.
Learn more facts about the waitlist and what to expect when waiting for a transplant.
How long will I have to wait?
Once you are added to the national organ transplant waiting list, you may receive an organ that day, or you may wait many years. Factors affecting how long you wait include how well you match with the donor, how sick you are, and how many donors are available in your local area compared to the number of patients waiting.
What is kidney paired donation?
Kidney paired donation pilot program (KPDPP) is a living donation transplant option for candidates who have a living donor who is medically able, but cannot donate a kidney to their intended candidate because they are not a match. The OPTN has developed a kidney paired donation pilot program in the hopes that every kidney transplant candidate with an incompatible but willing and approved living donor receives a living donor kidney transplant. Learn more about our kidney paired donation program.
What organs can be transplanted?
Anyone can become an organ donor, no matter your age. Your medical condition at the time of death will determine what organs and tissue can be donated. If you would like to declare your choice to be an organ donor, be sure to enroll in your state's donor registry and share your decision with your family and friends. Your decision to donate life can help to save many lives. Follow the links below to learn more about each organ. Learn about vascularized allograft transplants.
Learn more and access resources from UNOS that advance our mission to increase the number of transplants.
Waiting for your transplant
Waiting for a transplant is not like taking a number and waiting your turn. The waitlist is better described as a giant pool of patients. When a deceased organ donor is identified, UNOS' computer system generates a ranked list of transplant candidates who are suitable to receive each organ. UNOS matches individuals waiting for a lifesaving transplant with compatible donor organs.
Learn more about organ transplants, how organs work, how to cover transplant costs, and how to take care of a transplanted organ.